I do not intend to become the Denton restaurant reviewer, but I do plan to look at new places in Denton that complement the culture of our humble burg. One such newly opened place is Royal's Bagels, at 503 West University. Royal's is the latest venture of Denton businessman, Joey Hawkins. Joey and his wife Amy are the owners of downtown coffee mecca, Jupiter House, and decided to open Royal's to fill  Denton's NEED for a purveyor of fine New York bagels.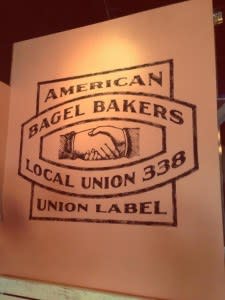 The restaurant is named after the couple's four-year-old son and businessman-in-waiting, Royal, who is pretty excited by his namesake.  So are most of the people who have tried the breakfast/sandwich/salad and cinnamon roll establishment.  When I say "cinnamon roll", think of the delicious rolls found at a major chain in airports and malls around the country - only fresher and better. I have boldly recommended the inclusion of cherries in the making of said rolls like the ones I've had in NYC and Denver; not that improvement is needed, but  hey, a choice would be great!
If you have been to Jupiter House, you are familiar with the welcoming, comfortable atmosphere it provides. Jupiter House is frequented by a loyal clientele comprised of fellow Dentonites from UNT students to community leaders from all facets of our town's unique make-up. The people are friendly, the service impeccable and the ambiance conducive to just about anything.  Being on the Square, Denton's living room, makes it a convenient place to meet, greet, see and be seen!
The Hawkins have taken the same idea and feel of Jupiter House to Royal's.  It is located at the corner of University Dr. and Carroll Blvd., which most of us navigate on a regular basis, making it an easy to drop-in haunt. The atmosphere is bright, comfortable and again, welcoming. But enough about the place, it's the food that really counts.
Mr. Hawkins drew on his history of successful restaurant management and the lack of a true Denton/New York bagel shop in creating Royal's Bagels. Breakfast starts at 6:30 am, with a variety of morning-starter sandwiches. Lunch includes a large selection of bagel sandwiches and fresh salads. The bagels are true NYC bagels and are available in many types/flavors. Everything is fresh and fast!
I tend to work from "satellite" offices and Royal's Bagels has been added to my rotation. There is free wi-fi, great food, great people-watching and great service.  Give it a try, you'll like it!
Enjoy Denton!!