The University of North Texas Libraries' Archives and Rare Books presents "Revealing Texas Women: Hidden Voices in Special Collections," a free exhibit open to the public through the spring 2013 semester. The exhibit will run through May 11 (Saturday) in the Archives and Rare Books space, Room 437 in UNT's Willis Library. The library is located one block east of Highland Street and Avenue C.
Revealing Texas Women explores the often disregarded female experience in Texas and the women who forged new spheres of influence for their peers and future generations, said Morgan Gieringer, head of Archives and Rare Books. She said the exhibit celebrates pioneering women writers, artists, businesswomen, and leaders, as well as the important role these women played in the history of the state.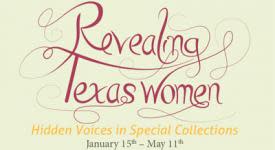 "From authors and artists to showgirls and club women, the diversity of Texas women is reflected in Revealing Texas Women," Gieringer said. "This exhibit highlights never before exhibited collections, such as the science fiction art of Victoria Lisi, with rare first edition books by Texas authors and many more surprises."
Women featured in the exhibit include:
Ann Rice - A UNT alumna and contemporary American gothic author. Rice is best known for her popular Vampire Chronicles series. Many credit Rice for contributing greatly to the popular genre of vampire fiction.
Naomi Shihab Nye - An award winning poet, songwriter, novelist, anthologist and Texan.  Born in Palestine, Shihab writes about culture, heritage and peace.
Katherine Ann Porter- A Pulitzer Prize-winning author, journalist, essayist and political activist. Porter is mostly known for her short stories, most that are set in the Southern United States and Mexico. She is also known for her prose, most which have themes of justice and betrayal.
Enid Justin- The founder, president, chief salesperson and chief executive of the Nocona Boot Company, based out of Nocona, Texas. Justin, the daughter of famed book-maker Herman Joseph Justin, is honored in Fort Worth's National Cowgirl Museum and Hall of Fame for her contributions to the boot-making industry.
Sarah Tilghman Hughes - She was a jurist, civil rights activist, Texas state representative and federal court judge, and is well known for swearing in Lyndon Johnson as U.S. president aboard Air Force One following the assassination of John F. Kennedy. In 1961, she was appointed by Kennedy to become the first women to serve as a federal district judge in Texas.
More information about the UNT Libraries' Archives and Rare Books is available online. For questions about the event, contact Morgan Davis Gieringer, head of Archives and Rare Books, at 940-369-8657.