John Steinbeck first brought Route 66 to life in his 1939 Pulitzer Prize-winning fiction novel The Grapes of Wrath, a sad saga of Tom Joad and his family trying to escape The Great Depression's grip after losing their farm to the Dust Bowl. The story is about their difficult journey to California along Route 66, the same road taken by thousands of non-fiction, very real-life families during that era, all with stories mirroring that of the fictional Joads.
A couple of decades after Steinbeck's bleak portrayal, two dashing young men hopped into a 1960 red Corvette and introduced Americans to a completely different image of that same highway in the CBS television series "Route 66." Every week for four years, viewers tuned in to watch Tod and Buz find adventure and romance as they traveled the 2,448-mile-long highway. It wasn't long before audiences were inspired to get off the couch and explore America's Main Street for themselves.
The rest is history. In the mid-1980s, the new I-40 superhighway bypassed Route 66 and left many small towns stuck in something akin to a time warp. Undeterred, visitors continued to trek the original Mother Road spending money that kept the authentic little towns alive. Still today, the route is romanticized in movies, music and lore as the must-do road trip. Tim and I chalk it up as one of our top vacations ever.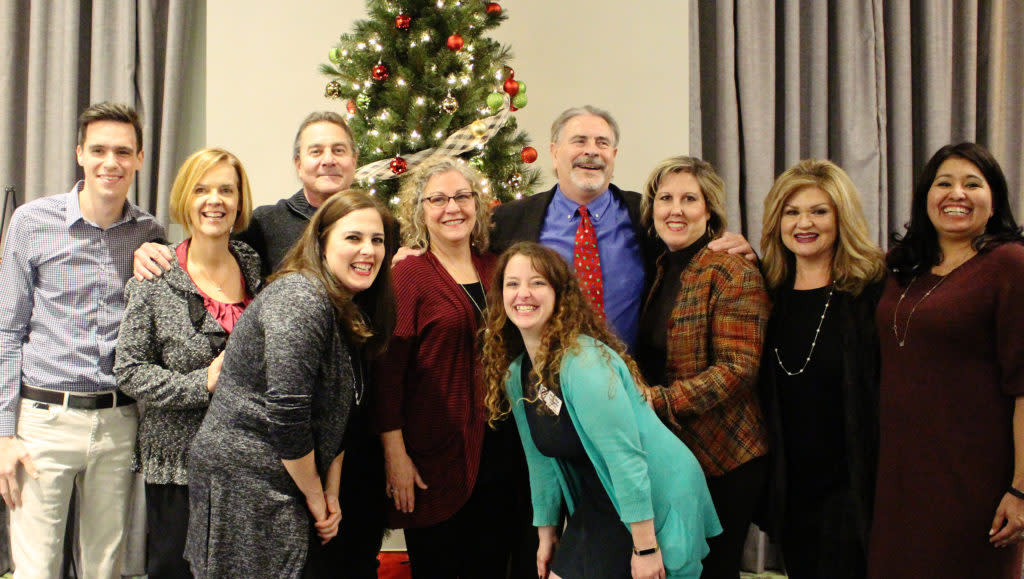 The CVB Staff congratulates Chuck Carpenter on a well-earned retirement!
Route 66 is a great tourism success story, a favorite and valuable study among destination marketing professionals. While today's column is not specifically about the historic highway, nuggets from its tale are relevant to another important legacy.
Tourism is where Chuck Carpenter began his career back in 1976 as the first director of the brand-new Denton Convention & Visitors Bureau. After a couple of years, Chuck detoured from tourism to delve into Chamber leadership. He returned in 1982 to take the wheel of the Denton Chamber of Commerce. Route 66 came to mind last Monday, Chuck's 66th birthday, as I listened to the lineup of past Chamber board chairs reminisce during his retirement send-off celebration after 36 years as president.
The fact that Chuck turned 66 on the exact date of his formal "so-long" seemed serendipitous to me, because the end of one chapter and the beginning of another are much of what the Mother Road is about.
Denton's grown up on Chuck's watch, tripling in size and scope. His impact is visible in our healthy business and corporate communities, tourism, innovative cooperative partnerships, strong university ties and the vibrant culture that defines our Denton life for citizens and visitors alike.
Accolades and appreciation poured out that evening as people shared memories of the many ways Chuck influenced our city and impacted their personal lives. Each one's story added color, texture and dimension to the Chuck I have known and served our city with for the past 16 years, a genuinely good man who has persevered through challenges, led through change, and succeeded with humility.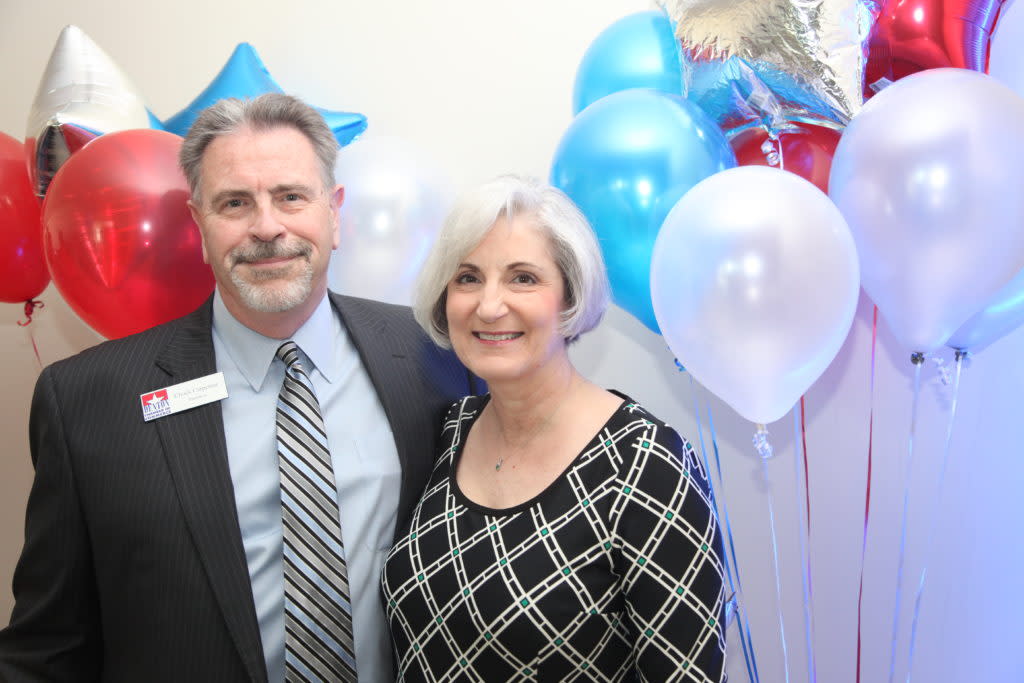 Route 66 is a real, concrete ribbon that spans the nation from Chicago to Los Angeles. And it is more. It is an icon of the open road and freedom. It lured the Steinbeck-era people with ideals of starting over. It beckoned searchers with dreams of discovery in the 60s. It has captivated imaginations with nostalgia, a sliver of highway where the good old days are still alive and well, simple and uncomplicated. For millions of road warriors throughout the years, Route 66 is the ultimate journey.
Whether Chuck's future ever finds him cruising Route 66 remains to be seen. What's certain is that he is poised this moment at the starting line of his own new beginning. The road behind him he paved with his own sweat, labor, vision, love and concern for this place, our home. And the road before him? It is wide open, a freedom road where the journey is all that matters.
Make it up as you go, Chuck. Toss the map in the trunk and just enjoy the drive. Get your kicks on Route 66 or whatever route you pick. You've hard-earned every mile that is now yours to explore and relish at your speed and on your own terms. The rest of us will keep building here where you are leaving off. Know that you are significant to the Denton that is today and the city we will yet become.
Wherever the road takes you next, I wish you fun, peace and happiness, no holds barred. One thing I ask. Watching your taillights head off in the distance will be easier knowing you're finally living the dream, so send a postcard now and then?
Godspeed, Chuck Carpenter, and thank you.
See some photos from Chuck's years with the Chamber:
[slideshow_deploy id='56496']