When it kicks off this coming Friday, August 17, the North Texas Fair & Rodeo (NTFR) will open for the 90th year, making it Denton's oldest, most-beloved festival. Lasting nine days and nights, it is also Denton's longest event.
More than 120,000 people attend the fair each year, many from out of town. This is the taste of true Texas visitors seek, especially international visitors. Which is why it makes perfect sense that Travel Texas (Office of the Governor Economic Development & Tourism) is sending two influential bloggers from Mexico our way for opening day.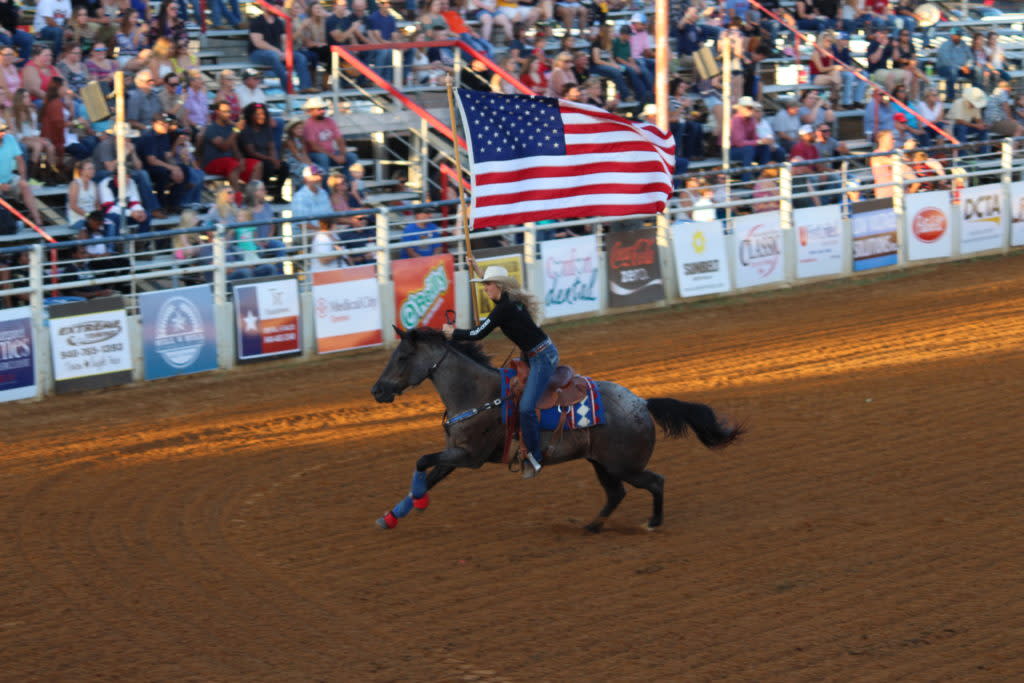 Carlos Dragonne and Elise Mendez co-author "Los Sabores de Mexico y el Mundo," or in English, The Flavors of Mexico and the World. A million-person-plus audience faithfully follows this blog about memorable places and cultures revealed through experiencing local food. They are contributing writers and photographers for numerous media outlets, most notably "Gourmet de Mexico Magazine," with a monthly 45,000-issue print distribution and 175,000 social media followers, as well as the monthly tourism trade publication "Vidal Turismo," which reaches 4,000 travel and tourism professionals plus 800 more on social channels.
Their resume is a mouthful (pun intended), their names well-known as food tourism experts in Mexico and beyond. And they're coming to Denton for the NTFR.
Bright neon lights will swirl. Carnival rides will twist and turn. Crowds will cheer in the rodeo arena. Music will fill the air, thick with aromas like sweet hay, animals and…fair food. The two famed foodies will be there munching funnel cakes, turkey legs and cotton candy just like the rest of us. They'll blend in with Dentonites and hundreds more like themselves, visitors from around the world. Just because we don't see them doesn't mean they aren't there, because they definitely are.
The traditions celebrated at the NTFR are as old as Denton. Back then, men scoured their livestock and farm produce, selecting the best in their fields to show against their neighbors'. Women canned, pickled, baked and quilted with visions of blue ribbons for their efforts. And from youngest to oldest, everyone looked forward to four days of picnicking, horse racing, music and frivolity. It was the event of the year, a time when the community would come together to celebrate the town and the fruits of their combined labors.
This is the stuff that made Texas Texas. It made America America. The NTFR is the opportunity in Denton each year to experience from whence we came. International visitors like Carlos Dragonne and Elise Mendez want to see it. They want to touch, hear, smell and taste. They want the complete sensory package, because they know their readers want it.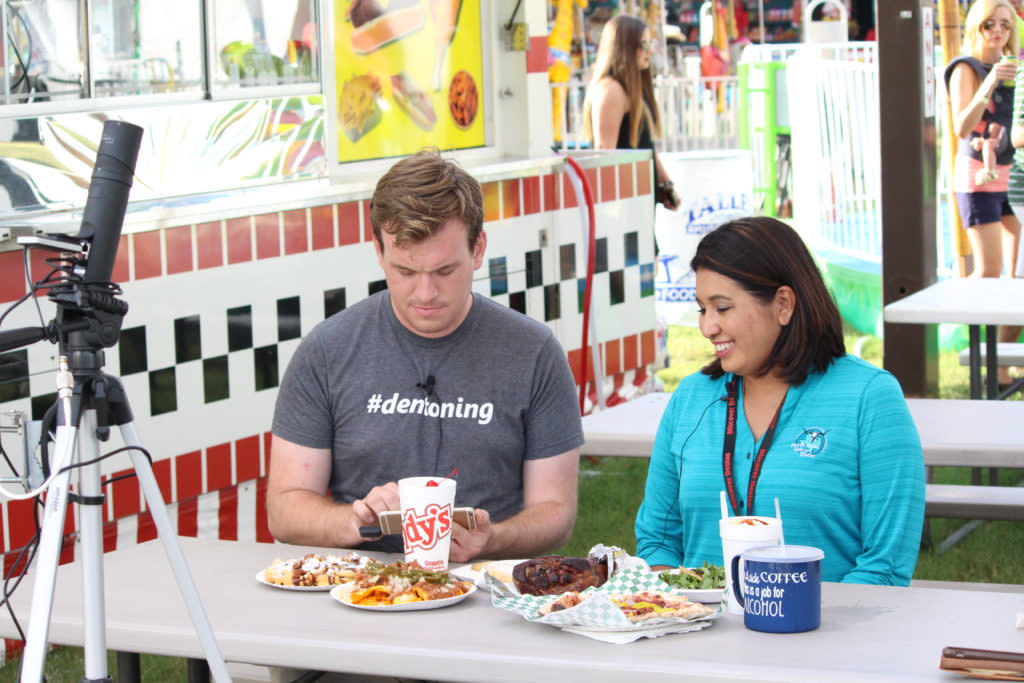 Jake Laughlin and Veronica Maldonado set up for one of the Denton Food Tours during the 2017 North Texas Fair & Rodeo.
Hosting influencers is marketing at its finest, folks. Through just these two, the Denton story will reach a million-and-a-half people we likely would never reach any other way. Plus, that audience is hearing our story from a couple of the most revered foodies they follow. These kinds of visitors are powerful mouthpieces with devoted fans. It's why Texas Travel is doing everything they can to deliver the finest of authentic Texas, and they believe that includes Denton.
This kind of trust doesn't happen overnight. Opportunities like this are forged from long-time relationships and the Denton Convention & Visitors Bureau's (CVB) reputation for being a reliable State partner who can make Texas shine. The result is that we get to hone in on Denton to a qualified, captive audience at the same time.
Dragonne and Mendez have a reputation for telling the whole delicious story of a place when they visit, so their Denton itinerary is packed with more of ours. Their focus on culture and cuisine along with their agricultural tradition interests drove the itinerary's design. Local shopping is big with their audiences, so besides browsing at the NTFR, they'll tour area shops, the Discover Denton Welcome Center and downtown. They'll take in some live music, taste wine and savor local beers. They'll tour the McCutcheon Reining Ranch for a glimpse of the famous North Texas Horse Country. And they will eat. Lots of local Denton fare will keep their taste buds buzzing throughout their two-day stay.
Denton has a great time celebrating tradition, our history and heritage at the NTFR. We love playing games, riding rides and partying every night with some of the top entertainment talent in the world. And we love being Dentonites all year long.
Thanks to Travel Texas and our guests Carlos Dragonne and Elise Mendez, this weekend, a million newbies will find out why.
---
Click here for information, schedules and ticketing for the 2018 North Texas Fair & Rodeo. Un página en español es aquí.