In Denton, anything antique or historic is a sign of character. Since we landed on the map more than 150 years ago, our city has clung to its original architecture, actively and creatively adapting original downtown buildings for new uses rather than razing them and starting over.
It is that same spirit of preservation that motivated the Denton Main Street Association (DMSA) to begin the Arts, Antiques and Autos (AAA) festival 12 years ago, an event that features vintage antiques and collectibles, the majority of which are carefully waxed, packing power under the hood, and showing muscle where it counts.
On Saturday, September 10, from 9 am to 3 pm., highly competitive collectors will drive more than 200 cars, trucks and motorcycles  representing eras from today to days long past to Denton. They will gather all around the beautiful Courthouse-on-the-Square where visitors are free to wander among and admire them. Official judges are clandestine among the throngs keeping the car owners on their toes, alert and showing off in hopes of winning the coveted "Best of Show award."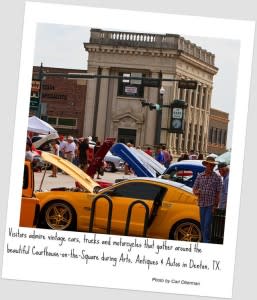 In addition to the antique cars, numerous vendor booths offer unique arts, crafts, and demonstrations. Lectures throughout the day provide opportunities to learn more about the popular sports of collecting and antiquing under topics like: "Estate Sales 'How to'"' by John Bennett; "Antique Diamonds" by Joe Amyx; and "Vintage Purses" and "Tips, Tools and Techniques: Everything You Always Wanted to Know About Caring for Antiques, Collectibles, and Other Treasures" by Georgia Caraway. Lectures will be inside theDenton County Courthouse-on-the-Square (CHOS) in the Commissioner's Courtroom on the 2nd floor.
Hands-on crafts and games keep the kids busy while area bands such as Chris Watson playing Texas Blues Rock entertain crowds all day long. The festival atmosphere is complete with food from numerous downtown eateries and vendors.
Take advantage of the specialists in some of the downtown stores as they conduct "Attic Treasure" Information Appraisals on general antiques and collectibles, including jewelry, clocks, china, silver, glass, and more (no furniture or photos of items please).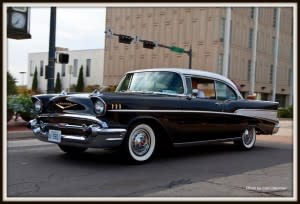 Producers have added a "Preview Night" on Friday, September 9, on Industrial Street, just east of the Square. From 6-8:30 pm, car and motorcycle enthusiasts can catch a sneak peek of some of the premier classics and hot rods and cast a vote for the "People's Choice" Award.   All awards are   presented on Saturday afternoon at the show's closing.
"Our historic downtown is authentic and it cannot be duplicated. This event highlights downtown in a unique way that truly captures the treasures of Denton's past and present," said Larry Parker, DMSA president. "What a perfect way to spend a day in Denton: immersed in history all day and then on the cutting edge of new the same evening when UNT's Mean Green takes the field for the very first time in brand new Apogee Stadium. A historic day all the way around."
General admission to AAA is FREE. Registration to compete in the car show is $25. Lectures and appraisals are $5. For directions, an event schedule, entry forms, and more detailed information, please visitwww.dentonmainstreet.org or call the event hotline at (940) 349-8529.