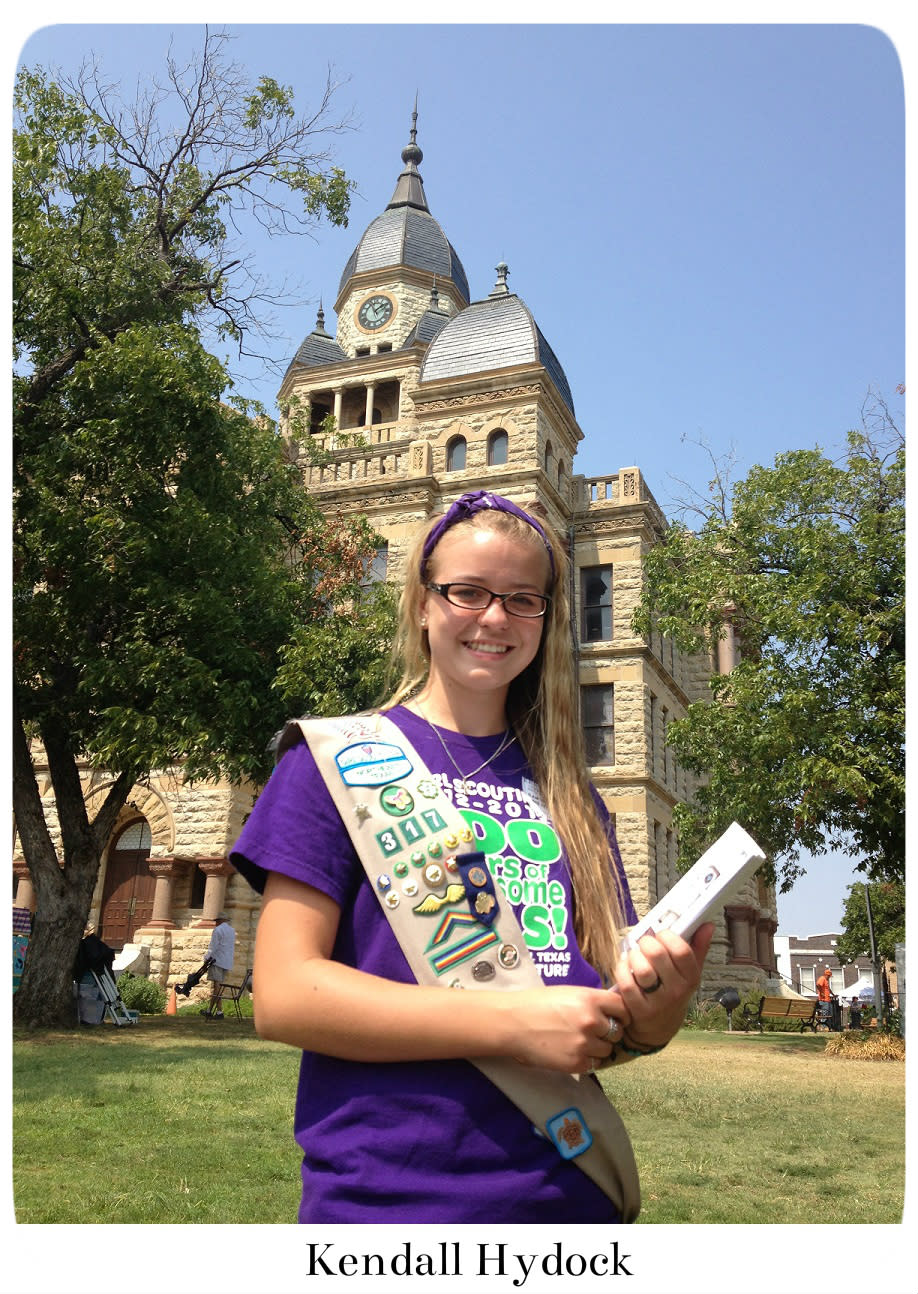 Kids surprise me sometimes.  Take Kendall as a stellar example.  A budding professional at just 15, she wrote the following letter to The Denton Convention and Visitors Bureau this past April:
"My name is Kendall Hydock and I am a Girl Scouts of Northeast Texas Senior and a freshman at Guyer High School. I am currently starting work on my Girl Scout Gold Award and my project idea involves promoting tourism to the City of Denton. I stopped by the visitor's bureau and was given your names to refer my project to and I am hoping you can help me.
I visited the city of Paris, Texas on a recent Girl Scout trip where we got a picture scavenger hunt from the Chamber of Commerce. The hunt led us through the city square, teaching us some of the city's history that wasn't apparent just glancing around. I had a great time completing the hunt and felt like I understood and appreciated the city better.  The Denton Square is so much prettier and has an interesting history as well. Researching websites, I have found we have lots of exciting things right here that I didn't know about even though I am a resident! What I would like to do is create the same type of interesting hunt for our city and make it available through the Chamber to visitors and residents alike. The hunt would primarily focus on the square for a walking tour, (not entering and disturbing any of the businesses, yet still featuring them and hoping to gain them business as well), but could be adapted in the future to include surrounding neighborhoods, the colleges, and museums. When we research places to visit as a family, I like the ones that include some kind of fun hunt. I think this is the type of thing you could include in your Denton on a Dollar pamphlet since it would be free.
What I need is your permission to proceed with this type of project.  I also need a Project Advisor. I can use a Denton resident as an advisor, but I would appreciate it if one of you could be an advisor for me since you deal with promoting the city and could point me in the right direction. Your role as advisor would mean approving my project with Girl Scouts of Northeast Texas via written letter, reviewing my project and offering advice, and ultimately signing off on the finished hunt and distributing it. My troop leader (who is also my mother) will take care to ensure I have met all the Girl Scouts of Northeast Texas safety requirements and all other aspects of the task. I have also asked the community service chapter of Kappa Delta to assist me with testing my hunt and evaluating it prior to completion. I plan on visiting the museum to get more data about the square, but would love it if you have a person or place you could refer me to so I could get even more relevant facts regarding the history of the square specifically.
My school schedule does not allow me to come to your office during business hours, so I have to communicate primarily via email. I hope to submit the paperwork to get approval from Girl Scouts of Northeast Texas next week so I can begin work on this project (and finish it!) this summer.
Thank you in advance for any help you could give me. I hope you find this idea as exciting as I do!"
And we (at the CVB) did!  Kendall benchmarked, researched, designed and launched her Denton-centric game with the help of eager players during the Arts, Antiques & Autos Extravaganza on the square.  Clues in hand, people of all ages scoured downtown to finish the hunt.  One group of visitors spent more than an hour playing, loving every minute because they saw Denton in a way they would have missed otherwise. 
Thanks to Kendall's initiative, creativity and fresh perspective on tourism, we have a tool that will work for us long into the future to help visitors and citizens alike discover the real Denton.  Great job, Kendall!  You are an inspiration, a grand marketer and awesome game-builder to boot.  Now, go get that Gold Award!
Download Kendall's Scavenger Hunt: Denton Square Scavenger Hunt