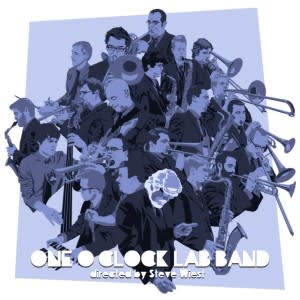 Each school year, the One O'Clock Lab Band has a "dramatic" start, at least for those students auditioning for a coveted spot with the band. The drama ends when results are posted on the legendary "Board of Tears". But the end result is a reinvigorated band that treats every day like an audition.
With only 4 returning veterans, the band set out to be introduced as this year's jazz band sensation. According to Steve Weiss' blog entry in The Blog Shed, the first concert at the Syndicate was astounding. "How do 15 new students get to 'sensational' after only three rehearsals?" seemed to be the crowd's question.
Imagine the sound now with well over a month of creativity at work. The legend of the One O'Clock Lab Band makes it a sought after concert. Luckily, Denton always has an opportunity to be part of the jazz experience since there are several concerts offered for the community and fans throughout the year.
The closest opportunity to listen to this six time Grammy-nominated band will be at the state of the art Murchison Performing Arts Center on November 22 when they perform their annual Fall Concert at 8 p.m.   The band will perform immediately following this year's guest artist, award-winning trumpeter Terell Stafford. Ticket prices are amazingly affordable.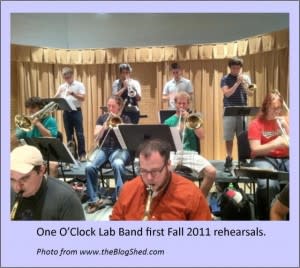 There are also several milestones to note for the One O'Clock Lab Band this year. The addition of three female band members brings an end to the "gender barrier". And, for the first time, the release of the band's annual CD includes a bonus DVD.   Full-length videos of all nine tracks from Lab 2011 are included in the DVD. Add to that list a new website that shows the band's mobile app, concert dates, and photos. While checking it out, be sure to link to The Blog Shed stories, sign up for their newsletter The Messenger, and read some interesting articles about the real world music business from record label companies.
It is easy to say that Denton's music scene branches out from much of its university talent. But it is an understatement that watching that talent take shape is the most inspiring and enjoyable part of Denton's music scene.