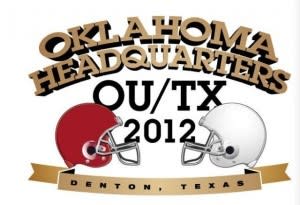 After laying the foundation for Oklahoma HQ last year, The City of Denton invites all Sooners and OU fans traveling to Texas this year for the October 13th game to come together in Denton for a full weekend itinerary of Oklahoma football fun, including deeply discounted hotels, Sooner parties, special drinks and food, and hassle-free transportation to and from the game through the A-train and DART. Located just two hours from Norman and a quick train ride from Downtown Dallas, Denton is making sure all weekend details are covered so fans can stop in Denton and have 4 days of OU/TX activities to celebrate the Sooners, including a route to the Cotton Bowl.
"When people think of the annual OU/TX football game, especially Oklahoma fans, we want them to think of Denton," says Kim Philips, Vice President of Denton CVB.  "For a lot of folks traveling into downtown Dallas for the game can be a huge expense and a logistical hassle.  We are working closely with a number of Denton partners to make sure we provide an easy, and affordable, option for everything – from hotel rooms to weekend-long entertainment and gameday transportation. Denton is home to more than 45,000 college students and is a perfect fit for college football fans looking for things to do. The A-train is also a huge part of this and will play a big role in making sure OU/TX fans can get to the game before kickoff and enjoy a worry-free return."
Similar to last year's package, Denton has put together complete weekend packages for visitors that included 1 or 2 night stays with an Official OU Welcome Party, live music throughout the weekend, nightly drink specials, and passes on the A-train and DART for gameday.
Denton's Oklahoma Headquarters Weekend Package provides a full itinerary of activities for visitors interested in the OU/TX game. A full list of accommodations, attractions, restaurants, and bars participating in Denton's Oklahoma Headquarters promotion are available at www.oklahomahq.com, along with the train schedule for gameday October 13th.