Sawdust and straw shifts softly as the hoof comes up and down, up and down. The horse shifts her weight, nods her head, and peers curiously through the bars of her stall at all the new faces. She twists her head to the side and sticks her white spotted nose through the slit, wiggling her lips around at a hesitant hand. Laughs bounce around the barn as Wanda sticks her pink tongue out and grins a big horse-teeth smile. She just wants a snack, but everyone else is here to learn all about her and what exactly happens at horse ranches in North Texas.
In fact, North Texas Horse Country is one of the largest concentrations of horse farms in the U.S. - around 350 - and offers a variety of breeds and disciplines. Quarter Horses, Thoroughbreds, Paints, Arabians, Appaloosas, Warmbloods. You name it, you can find it in North Texas. This area holds world champion horses in cutting, halter, western pleasure, reining and many other disciplines.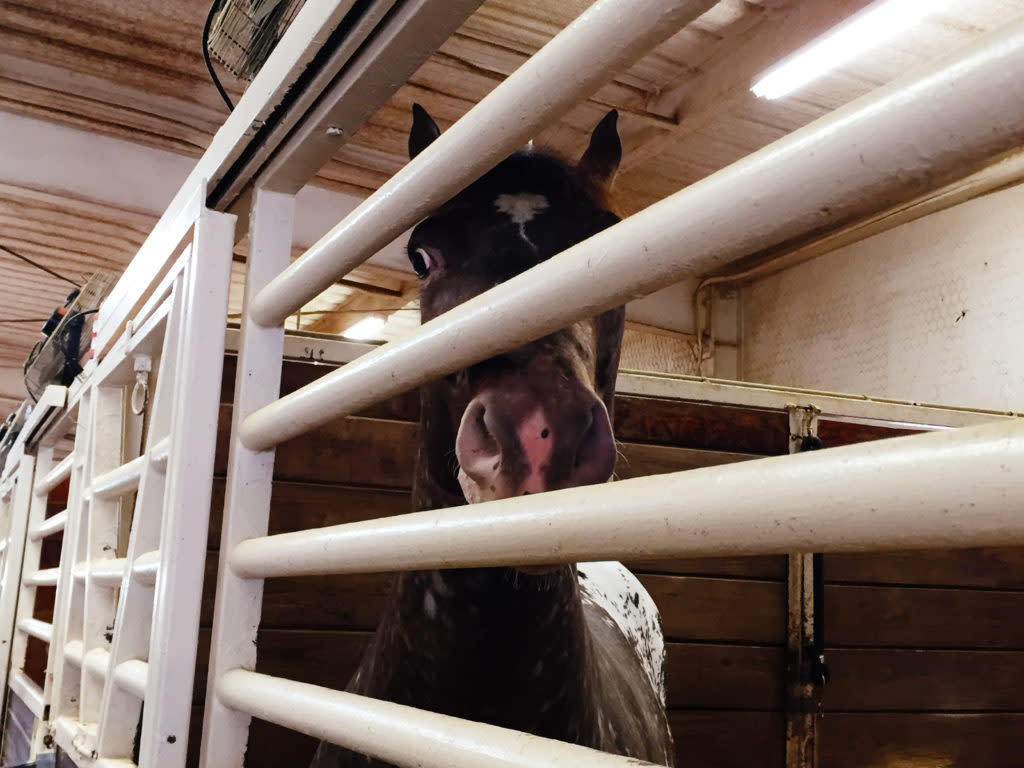 Wanda, one of the mares at Manor House, is extremely curious and likes to wiggle her lips at you to say hello. (Photo by Alex Helm/Denton Live)
Some of these ranches are open to tours where you can get a behind-the-scenes look into the world of horses. Not everything is about horse racing, and the horse industry is much more complicated than it may seem.
Manor House houses world and national champion Appaloosa halter horses, which are worked and groomed five days a week. Known as the bodybuilders of horses, halter horses are judged on their muscle mass, sleek necks and manes, and their flat backs, also called board backs. During a show, the handler leads them out rather than rides them, and they are judged on their conformation and suitability as breeding stock.
One such horse named Josh posed perfectly for the small crowd of faces. The handler led the 16-hand-tall horse into the middle of a corral filled with squishy brown sand, deep enough to give horses a good resistance workout to bulk them up. And just as if he had done it a thousand times before, the spotted brown and white Appaloosa clicked his hooves together and stood straight and tall. The size of these horses is impressive and even from far away, it is easy to see their impeccable musculature and shiny striped hooves, a typical Appaloosa characteristic. Josh was no exception. A gentle giant, he quietly stood to be admired and expertly responded to every command.
Cinder Lakes Ranch is home to 300 mares during breeding season. An expansive property of six pastures allows for plenty of room for mares and foals to play and bond. Upon arrival you are immediately greeted by two or three dogs who are more than happy to show you around the barn, as long as they get belly rubs in return.
Employees here are experts on breeding processes. One of the barns on the ranch includes a laboratory where employees can work their magic to help produce babies from the best stallions around.
In addition, Cinder Lakes is known for their reining horses. These horses are smaller and more compact. They have to be to be able to move quick and turn in tight circles. Reining horses on this ranch are braided and exercised every day and their trainers work extensively with them so they can guide the horses through a precise pattern of circles, spins, and stops. Tinsel Jac is one of these horses, a Palomino that has been named to several titles, including High Roller Reining Reserve Derby Champion and NRHA Open Derby Reserve Champion.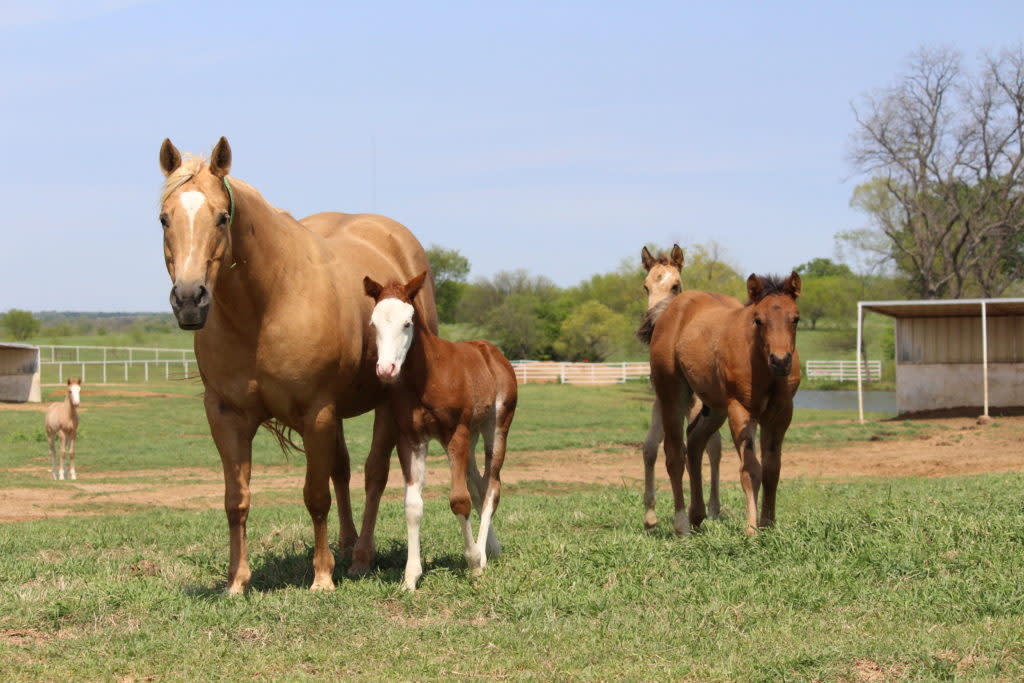 Oak Meadow Ranch is the final stop of the tour. This ranch is extra special in that it has a restaurant and an area for wedding ceremonies or other events. The delicious food is home-cooked using family recipes, and the food is served out of an original 1896 chuckwagon.
Once all the food is gone, everyone gathers on some bleachers several hundred feet away. Riders dressed in jeans, long sleeves, and cowboy hats set up poles with blue and white balloons attached to the top. Then everyone clears the arena except for one rider. He guides his horse in looping circles, gradually going faster and faster. Then the horse runs straight in a burst of speed. BAM! BAM! The noise is startling at first, but then you notice the puff of smoke leaving behind a popped balloon. In about 20 seconds, the rider has shot all the balloons, and the horse comes thundering up to the crowd before slowing down, kicking up clouds of dust, nostrils flaring as he breathes heavily.
This is called cowboy-mounted shooting, a timed event where riders shoot balloons while riding certain patterns using .45 Colt pistols with gunpowder. The embers from the gunpowder pop the balloons. The sport takes expert skill and timing, and the riders at Oak Meadow Ranch demonstrate this with ease.
After the demonstration, tour-goers head back to the bus, winding their way through pristine acres of horse country. Horses grazing in the fields look up from the grass as the bus passes through, ears pointed forward. Cows seek shade trees. Donkeys stand in the middle of the pastures, unbothered. A lone dog sits by a house, keeping his eyes on the road. The air is clearer out here. Horses tie everything together. No matter where you're looking, you'll see the swish of a tail, or the pawing of a hoof. Horses are everything out here, and are a beautiful part of North Texas, deeply entwined in the culture here. Seeing it firsthand gives you pride if you live here, and makes you appreciate the industry no matter who you are or where you're from.
---
Want to see horses like Wanda, Josh and Tinsel Jac for yourself? Sign up for one of our behind-the-scenes tours! Tickets are on sale for all of our 2018 dates: March 3, April 7, May 5, October 6, November 3, December 1 both online through Eventbrite and Facebook and by calling us at 940.382.7895.