It is fair week in Denton!
The North Texas Fair and Rodeo (NTFR) opened this past Friday night to thousands of fair-goers delighting in Denton's oldest and longest (lasting nine days and nights) festival of the year. For the past 90 of its documented 132-year history in Denton, the North Texas State Fair Association (NTSFA) has produced the fair, tending and growing it from its original, local ranch-against-ranch competitions of best livestock and field produce to the award-winning, international attraction it is today.
The years of NTFR history are pocked with time's guaranteed constant: change. City and county populations boomed. Fair fun expanded, luring more competitors from farther distances. Arts and photography contests now accompany the historically-popular domestic arts exhibits. All of these changes came with benefits and challenges.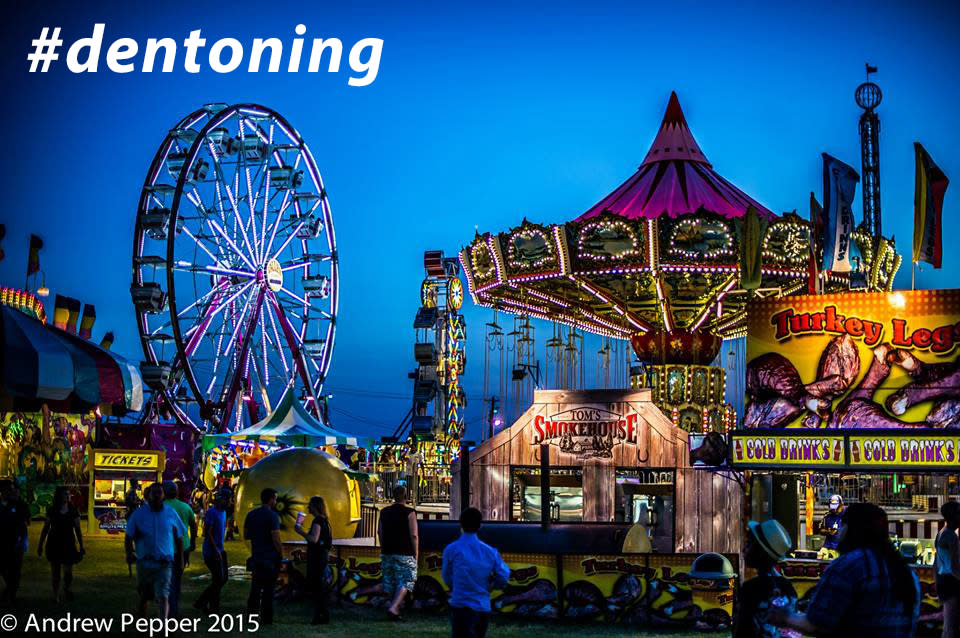 The number one benefit, aside from the fact that the fair just keeps getting better with age, is the amount of reinvestment the NTSFA is able to put back into Denton County's youth and non-profit organizations. What was a few hundred dollars in the early days now averages more than $500,000 every year. Add to that the sheer monetary impact of visitors and spending, and the fair's economic footprint on Denton is in the millions of dollars.
Top among the challenges of fair growth is physical space. In their book Images of America: North Texas State Fair and Rodeo, Nanci Kimmey and Georgia Caraway chronicle the fair's many locations through the decades, moving as it outgrew space after space. In 1949, W.C. Kimbrough donated 33 acres to the NTSFA, and the fair, along with some 120 other events each year, have been home there ever since.
It's taken strategy and creativity to preserve the NTFR's historical role while keeping it fresh and relevant at the same time within those 33 acres. A second critical challenge is manpower. Executive Director Glenn Carlton, Assistant Director Nanci Kimmey, and Marketing Manager Jacee Kiefer are the only full-time professional staff working with the NTSFA Board members and more than 800 volunteers to make it happen.
The fair has kept evolving without making a location move in more than 68 years, a seemingly impossible feat. But winds of change are blowing once again.
Just days before the NTFR's gates opened last year, NTSFA officials unveiled a rendering of a new 109-acre North Texas Expo Center to be constructed in north Denton at Ganzer Road and I-35.
"We're probably five years out from reality, but it's not just a dream anymore," Glenn said. "Denton County needs this. We're not just building fairgrounds for two weekends a year. This will be a 365-day-a-year venue for all kinds of events, agricultural and other, with facilities and amenities to compete with other destinations."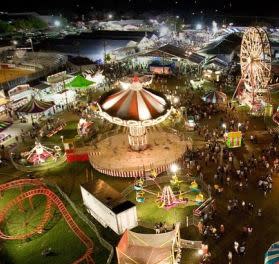 The rendering depicts a 45,000-square-foot expo hall with moveable walls, surrounded by breakout rooms, to accommodate a large event or several smaller ones simultaneously. Also included are a concert pavilion, 1,000 horse stalls, livestock paddocks, 150 RV spaces with hookups, and plenty of parking.
To put the plan into perspective, the NTFR's current 33 acres has no horse stalls. The exhibit hall is only 15,000 square feet. Set for the rodeo, the open arena seats only 2,800 people, or about 4,000 with additional stands brought in, and is susceptible to inclement weather. The new covered arena will seat 6,000 with no weather worries.
The concert pavilion will open Denton to big concert and event opportunities year-round. During the NTFR, audiences 6,000-people-large now pack into the current grounds stretching from the stage in front to the midway and carnival at the back. The new covered pavilion will accommodate 10,000 under its roof.
From a destination-marketing vantage point, the North Texas Expo Center will be a big deal. While the NTFR and the North Texas Horse Country Tours have established Denton's reputation in the agricultural world, a viably competitive venue like the Expo Center will be yet another game-changer for us. It will be a whole different animal, so to speak, than the convention center, but absolutely complementary. With both venues on the north side of the city, overflow and shared business between the two will be added value in pouring millions of new tourism dollars into our economy.
When you visit the fair this week, think about the fairground's long history. My how we've grown! Then look around and imagine acres and acres of additional space giving way to wide-open Texas fields and skies. That's our future.
It's coming, Denton, and it's going to be beautiful.
---
For full schedule and ticket information, click here.
The book Images of America: North Texas State Fair and Rodeo by Nanci Kimmey and Georgia Caraway is available at the Discover Denton Welcome Center.