Sundown Collaborative Theatre opened their production of done/undone last weekend at Green Space Arts Collective.  I continue to be impressed by the quality of work I get to witness from this group!  This is an original creation conceived by Sundown Collaborative Theatre, and the program gives an excellent description of the process involved.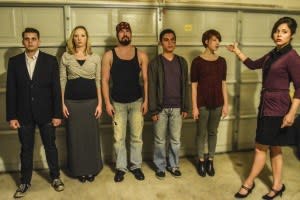 As the audience walks in, they are able to choose to sit in one of four areas that surround the action.   This helps us to trap the characters into their environment both with our stares and our presence.   Music plays that gives a feel of the impending action.  Indeed, the music throughout the piece adds so much to the emotional roller coaster, especially as the cast sings and dances.  The characters challenge the audience's opinions of them with each situation, and the talent in each person is evident.
I don't want to give it all away, so let me just say that as a visual artist who has spent years illustrating interpersonal relationships, this is a fascinating theatrical work of art.  It examines the way people relate to each other, the choices they make, the personalities they have, and the way they judge each other as a result.  I highly recommend catching a performance if you enjoy theater that makes you think about it and discuss for hours after the applause.  There are adult themes and strong language, so leave the kids at home for this one!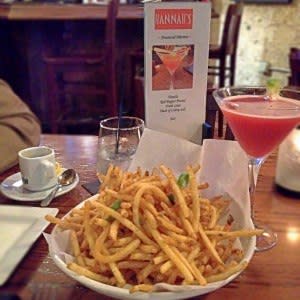 Afterward, we headed over to Hannah's for drinks and white truffle pomme frites in the bar area while we discussed.  This is one of our favorite snacks there, and made for a great ending to our evening out.
done/undone is playing March 21-23 and 27-30 @ 8pm.  You can call ahead for reservations at 940-220-9302 or just show up.  As an added bonus, they're offering $2 discounts on tickets if you bring a receipt from Loophole, Mulberry Street Cantina, or Chestnut Tree, or $1 off tickets for any other establishment in Denton! Email social@sundowntheatre.org for details.