With the end of summer comes the start of a new school year in Denton. Indeed, come August 23rd, the University of North Texas, Texas Woman's University, and North Texas Central College will begin classes once more and be bustling with new and returning college students. While the courses this semester are sure to be fascinating, our wonderful college town has a lot more to offer outside the classroom. Check out the list below to find out about 10 ways to start your school year in Denton!
1. Attend an Event
Back to school also means back to exciting events this year in Denton. The calendar is packed with awesome things to do, no matter your interest. There are live music concerts, art events, theatrical performances, trivia nights, and a lot more. These events are perfect occasions for new and returning students to get out into Denton and see what the community is all about! Check out the upcoming events calendar here.
 
2. Tour Denton's Murals and Instagram Spots
As a town with two big colleges and a large art community, Denton is full of beautiful murals, quirky spots, and other hidden places that make for great Instagram backgrounds. It's part of what gives the city such a hip atmosphere. The murals, a full list of which can be found here, are painted by talented local artists. Other photogenic spots include the Lil'd sign, the Chairy Orchard, and the mysterious Purple Door (finding it is part of the fun!) Click here for a full list of these locations. Taking a tour of Denton's scenic spots is both fun and an excellent way to get to know the city.
 
3. Belt It Out at Karaoke Night
It's time to stop subjecting your roommates to your acapella singing. Instead, put that song in your heart to good use at one of Denton's many karaoke nights! Karaoke is a fun activity for friends new and old and can be a great way to shake off the stress of the starting semester. Check out our Denton events page here to see a list of karaoke nights around town.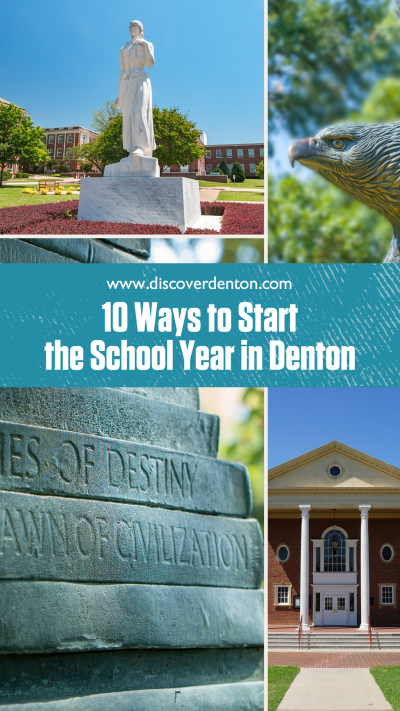 4. Check Out The Downtown Square
The Denton Square has a way of bringing people together. Built around the historic courthouse, the surrounding streets of the Denton Square draw crowds day and night with countless attractions. There are local shops, wonderful restaurants, as well as a few museums. The courthouse lawn even makes for a great place to set out a blanket and relax! The Square is very close to both campuses and makes for the perfect way to spend a free afternoon or evening. Click here for a more detailed list of what can be found on the Square.
 
5. Let Your Creativity Bloom
Looking to brighten up a drab dorm room? True Leaf Studio is Downtown Denton's premier plant shop. Not only do they sell unique and beautiful houseplants, they also offer a DIY terrarium bar. The plants on display are gorgeous, and just walking through the store can plant the seed of creativity. Once inspired, you can take home your very own terrarium nature-scape, perfect for adding a natural touch to a desk or windowsill.
 
6. Muse At A Museum
Visiting one of Denton's unique museums is a fantastic outing, and may even give inspiration for an upcoming school project. There are multiple museums around Denton, all close by to both the UNT and TWU campuses. The Courthouse-on-the-Square Museum, for example, is housed within the namesake building. Constructed in 1896, the courthouse itself holds historical significance. Its museum teaches about Denton history and boasts many historical artifacts. There is also the Denton County African American Museum, which lies in a house once part of the African American neighborhood known as Quakertown. It earned this name due to the abolitionist Quakers who helped escaping slaves along the Underground Railroad. This award-winning museum is inspiring and definitely worth a visit as well. Check out more information on these and other Denton museums here.
 
7. Enjoy The Outdoors
Between classes, studying, and homework, it can be easy to feel stuck inside. Fortunately, Denton has an abundance of ways to enjoy the outdoors. For those who want to blow off some steam, there are running and biking trails. For some more relaxing outdoor activities, Denton has golf courses such as the Lantana Golf Club and horse-riding ranches like the Hopper Ranch. A full list of outdoor recreation ideas can be found here.
 
8. Contemplate At A Coffee House
Noisy roommates and crowded libraries can be irritating. Fortunately, Denton has more than a few coffee houses which present the perfect place for quiet contemplation and study. Right near TWU you'll find Golden Boy Coffee Co. They're a barista-owned coffee shop that serves ethically-sourced craft coffee. Aura Coffee is just off the campus from UNT and is a landmark destination for the college, offering an inclusive space with a counterculture vibe. On the Denton Square is Jupiter House, a favorite among locals, known for their cinnamon rolls. Finally, just down the road from there is Zera Coffee Company, a non-profit shop run by volunteers whose proceeds go entirely to the Denton Freedom House, a men's residential program. But that's just the foam on top of the latté, so to speak. More wonderful Denton coffee shops can be found here.
 
9. Dine In Denton
Need a break from the cafeteria? Denton certainly has no shortage of places to eat near campus. Zalat Pizza is a new pizza joint on Hickory Street, an easy walk from UNT. They specialize in quality pies made by "pizza zealots." LSA Burger, a Denton landmark, lies right on the Square and has a second-floor outdoor patio, live music, and tasty burger menu as big as the Lone Star State. Then there's Industrial Street, where Fuzzy's Taco Shop and Rooster's Roadhouse can be found, both only a short bike or car ride from either campus. Rooster's is a down-home, bar & booth style place with excellent barbecue. Fuzzy's is a Tex-Mex taco shop with a casual vibe. A full list of awesome places to eat in Denton can be found here.
 
10. Discover Denton's Hidden Gems
Sure, there are the parts of Denton everyone knows. But what about our town's best-kept secrets? We've compiled a list of a few hidden gems that will leave your friends impressed with your knowledge of the city. These include secret midnight doughnuts, haunted locales, and even alpacas! Find the full list here and take a deep dive into Denton's quirky side.