This is National Travel and Tourism Week.  A tradition first celebrated 30 years ago after Congress passed a joint resolution in 1983, the first full week of May is set apart from the rest of the year to recognize travel's importance to American quality of life.  Cities across the nation identify, design and participate in activities to champion the power of travel.
Specifically relevant to quality of life, I mentioned last week that I believe America may be the most time depraved society in the world.  According to the U.S. Travel Association and a recent study called "Travel Effect: The Day Off Deficit" conducted by Oxford Economics, "American workers failed to use more than 400 million days of earned leave last year (2013)."  Government employees left 21 percent of their earned time-off on the table and private sector workers left 15 percent.  All total among the national workforce, every one of us shirked an average of 3.2 earned personal days.  Looks like my hunch about our harried lives is right on.
The Travel Effect report goes on to quantify the toll unused vacation is taking on jobs, the economy, productivity and, most importantly, our health and family lives:
The U.S. economy loses $160 billion in total business sales each year, sales that would support 1.2 million jobs if more earned leave were used.
The additional economic activity would generate $21billion in taxes, including $11.4 billion in federal, $4.1 billion in state, and $5.5 billion in local taxes.
If workers took just one additional day of earned leave each year, the U.S. would gain $73 billion dollars in economic output.
Nearly half (48%) of managers believe that taking time off had a positive impact on productivity.
Both managers (76%) and employees (61%) viewed taking all earned PTO as beneficial to mental health.
More than half (59%) of employees believe taking their earned leave improves their family life.
Several weeks ago, I wrote about the Texas Travel Industry Association's (TTIA) tagline, "Life's Better in a State of Travel."  We looked then at the economic impact of travel on Texas, travel being one of our largest exports, second only to oil and gas.  According to the Office of the Governor, Texas Economic Development and Tourism, total direct travel spending in Texas in 2012 was $65.7 billion, up by 6% from year end 2011.   Travelers generated $4.4 billion in local and state tax revenues, directly supporting 568,000 jobs and indirectly supporting 499,000 jobs in leisure, hospitality, transportation, retail trade, real estate, construction, insurance, finance, government, and other industries.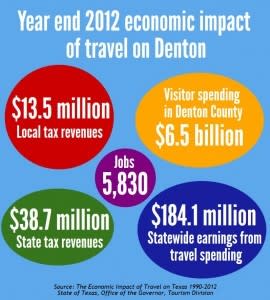 We then looked at why life's better in Denton because of travel supporting 5,830 jobs and creating a $13.5 million impact on our local tax receipts.  Direct travel spending accounts for more than $6.5 billion in our Denton County businesses.
The dollars and cents make it clear that travel matters.  Having an official name to ascribe to our stressed out, overworked way-of-life drives home the fact that travel is just as essential to our personal lives, making life better.  Check out the full report at www.traveleffect.com.  After reading the report myself, I am incredibly proud of our CVB team's work.  I am more confident than ever that our efforts to offer Denton's vibe and amenities as a rat-race respite for visitors and our own citizens truly matters and makes a difference in people's lives.
Our team is celebrating National Travel and Tourism Week at TxDOT's Texas Travel Information Center (TIC) in Gainesville this Friday.  DentonRadio.com is partnering with us to showcase Denton's music scene with local singer/songwriters Caleb Coonrod and Chris Caruvana.  The guys will take turns giving live acoustic performances.  CVB staff members and some Denton hotel partners will engage with visitors throughout the day.
It just happens to be that National Travel and Tourism Week's Friday is university graduation and Mothers' Day weekends' Friday, as well.  Hundreds of travelers will stop at the TIC throughout the day, many headed for UNT or TWU.  We tell them about Dentoning and open their eyes to discover Denton beyond their graduate's celebration.
Hometown eyes often grow bored with the same scenery day after day and literally stop seeing what attributes might possibly attract a visitor to our city.  But that's what the CVB is all about.  Our purpose is seeing Denton's experiential wealth like visitors do.  The Travel Effect is a real deal.  Most of us recognize it in our own lives now that it's called out.  At the CVB, we are doing something about it.  We are creating original, independent opportunities for visitors, for all of us, to invest and offset our day off deficits.