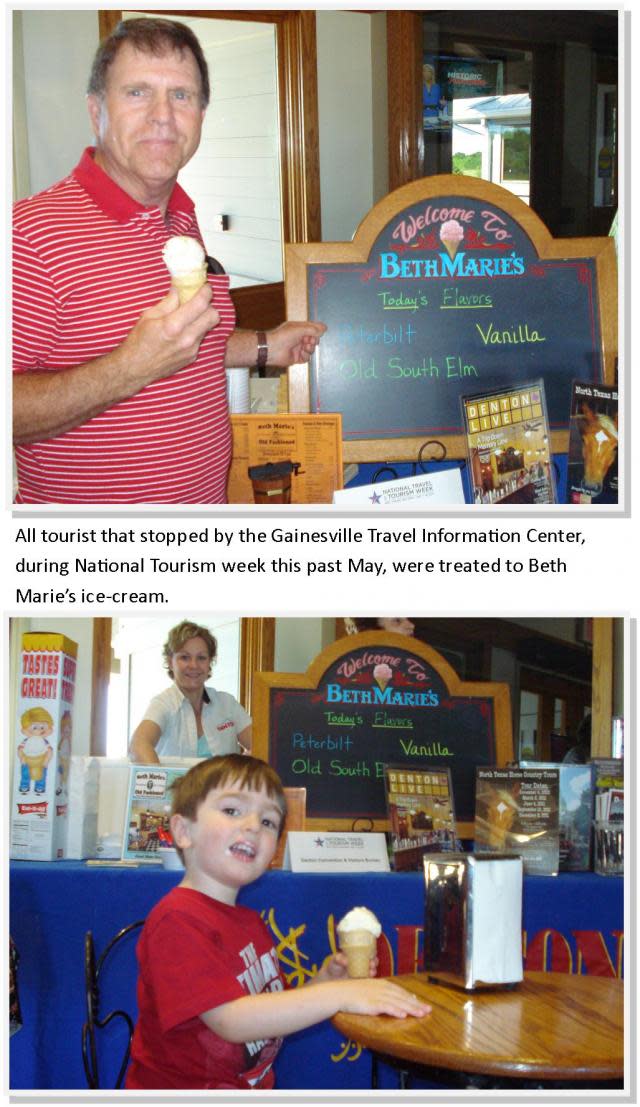 For the past 28 years, Texas' governor has recognized the economic importance of the travel and tourism industry on Texas during National Tourism Week, celebrated May 9-15, 2011. According to annual research compiled by Dean Runyan and Associates for the Texas Governor's Office of Economic Development & Tourism, state and national travel industries are finally seeing the beginnings of recovery after the severe declines of 2009's recession. Travel spending in Texas reached $57.5 billion in 2010, a 9.8% increase over 2009's bleak year end.
"Travel and tourism is one of the most important "export-oriented" industries in Texas," the Runyan Report states. "Spending by visitors generates jobs and tax revenues for communities within the state. The gross domestic product (GDP) of the Texas travel industry was $23.4 billion in 2010. This is similar to other export-oriented industries such as microelectronics and agriculture/food production. Only oil and gas production and related manufacturing have a significantly greater GDP."
In Denton County, the travel industry brought $518.3 million in tax revenue, an 8.9% increase over 2009.
On Friday, May 13, the Texas Travel Information Center at Gainesville, a division of Texas Department of Transportation, hosted a regional travel fair to celebrate National Tourism Week. The mini-fair's goal was providing a forum for individual community representatives to greet Texas visitors in person and educate them in creative, fun ways about the places and activities North Texas offers. The Denton Convention & Visitors Bureau (CVB) and the Denton County Museums, sponsored byBeth Marie's Old Fashioned Ice Cream, partnered to showcase Denton's downtown.
"We wanted to incite Texas visitors to take the time to get off I-35 and really see Denton," said Kim Phillips, Denton CVB vice president.
The Denton team included CVB staff members Kim Phillips, Dana Lodge and Veronica Maldonado and Georgia Caraway from the Denton County Museums. Beth Marie's provided three giant tubs of uniquely Denton flavored homemade ice cream that the group served on cones throughout the day. Beth Marie's also provided coupons for a free kid's cone as a metric for how many people acted on the information provided by the team's effort. Beth Marie's co-owners Ken Willis and Bob Moses reported that they received more of the coupons back into the store over that weekend than they have ever received so quickly from one single campaign.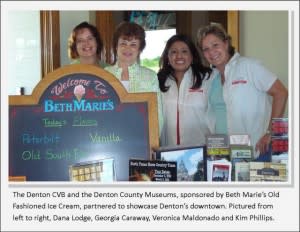 A stroke of timing luck certainly added to the event's success for Denton with the fact that Friday the 13th was the beginning of commencement weekend for, not just Denton's own UNT and TWU, but houses of higher education across the state. Hundreds of visitors clamored into the visitor center, sometimes resulting in a line for ice cream cones that stretched around the visitor center lobby and all the way out the door! Beth Marie's made them smile on the spot and gave the perfect incentive to draw them into Denton, many experiencing our city beyond the freeway for the very first time.
Special thanks to Ken Willis and Bob Moses of Beth Marie's Homemade Ice Cream for sponsoring Denton's National Tourism Week exhibit and for supporting tourism in Denton.