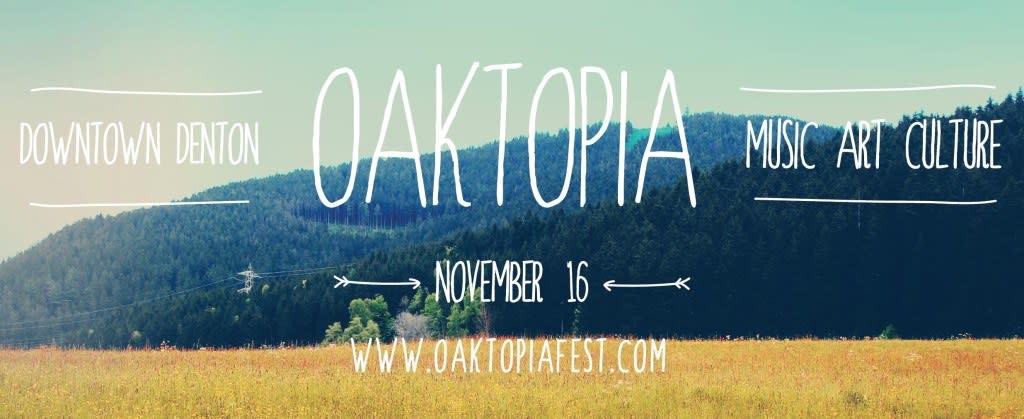 Get ready, all you North Texan hipsters. A festival is about to take hold of Denton that will blow your mind. November 16th Oaktopia will rock your body and soul completely, all the way from your pencil mustache right down to your skinny jeans. This cultural festival is jam-packed with awesomeness the likes of which you've never seen. Music, art, poetry, live creations, unique vendors, food trucks, skateboarding, contests and more. Take all that, add you and your buddies to the mix, and you've got yourself a good time in the making.
This is going to be huge. With seven venues and nearly 60 performers on the lineup, you'll have no problem getting your fill of live music for the weekend. Tickets are $15- to purchase and see the full list of artists, visit their website. With so many performers slated for Oaktopia, here's just a taste of some of the rock and hip hop biggies on the list: Del the Funky Homosapien, Brain Gang, Astronautalis, This Will Destroy You, New Science Projects, Two Knights, and the Boombachs. I just loved the Denton-based band the Boombachs when they played at Denton Radio on the Square in March 2013. Just sayin'.
Dentonites love their food trucks too, so make sure to visit some of Denton's favorites- Lean Machine and Shiitake Swerve. Get your nom on with tasty treats like gourmet sandwiches and chocolate chipotle chili. Mmm. That's making me hungry just thinking about the food fare that'll be at Oaktopia!
Even if you're flat broke and can't afford to buy a ticket, you can still peruse the vendors for a little window-shopping. Hop on your skateboard for a little ride while you watch live art installations at Williams Trade Square and at the Courthouse lawn.
Get ready for a Denton-style party. See you there!