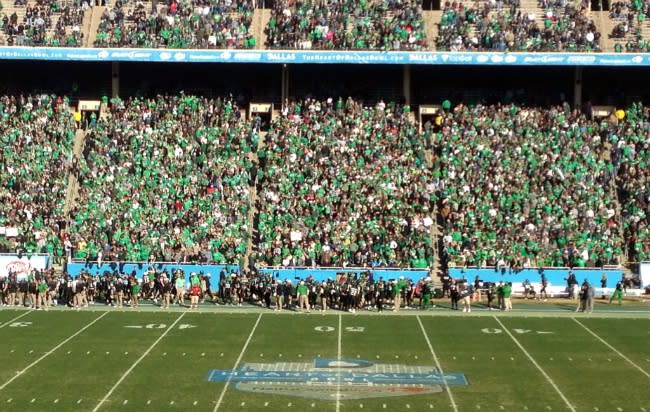 Hello! I am a new guest blogger on this site.  I'm a huge UNT fan, love Denton and live here and am super excited to guest blog about the goings-on with UNT athletics.
I also run the @FillApogee twitter account, which was a project I started to encourage attendance "sell out" at the games at Apogee stadium.  The original idea was to "hit30k," mirroring the goal the football team had to "hit6″ (6 wins).  After it became obvious they had met their goal, I realized that we (the fans) were not giving them the support they deserved.  So we adjusted our own goal, "hit30k", thus helping in selling out the stadium. Unfortunately, we never hit 30k at Apogee this year, but we did hit 30k at the Cotton Bowl in the Heart of Dallas Bowl.
Now that we've all had a few days to wind down after the North Texas Mean Green football team's domination over UNLV Rebels at the Heart of Dallas Bowl, I figured it is a good time for reflection.  Especially looking back at the great Mean Green performance as well as the great crowd at the Cotton Bowl!  If you didn't notice, Dallas really got behind the Mean Green! Many buildings lit up with Mean Green colors.  Reunion Tower was shining in UNT green and logos while the Omni was decorated in our logos the entire week of the bowl game!  Approximately 38,000
people showed up to watch the Mean Green trounce the Rebels. While that may not seem massively impressive to some, this is the perfect time for Denton to jump on the bandwagon. The Mean Green is a rising star, no doubt.  This is the school boasting the former head coach of the Iowa State Hawkeyes; the longest tenured head coach in the Big 12 during his time there.  Dan McCarney has turned this team from a team that won 8 games in 4 years to a team that won 18 in 3 years…much like he did at Iowa State.  This is a team boasting one of the best college stadiums in the NCAA.  We have some of the most electrifying players and a huge student body that has come out in force, rivaling student turnouts with many big-name SEC schools. The only thing missing at Apogee Stadium on game day is you.  With great tailgating on the hill, a stadium built to be loud and a football team on the rise… there's no reason that such an awesome little town like Denton can't completely jump onboard and support this team like Austin does UT.
The Cotton Bowl crowd of 38,000 doesn't seem that impressive for a 90,000 seat stadium but consider this- UNLV brought maybe a thousand fans… that means 37,000 fans were screaming for the green.  Most BCS games are split down the middle… a 70,000 seat stadium split down the middle would be 35,000 each.  Obviously the Heart of Dallas Bowl was in the middle of Mean Green territory, but if we can pull 37,000 to a bowl game, bringing better attendance than some do to BCS games, we should have no excuse to not sell out the 31,000 seat Apogee Stadium every game.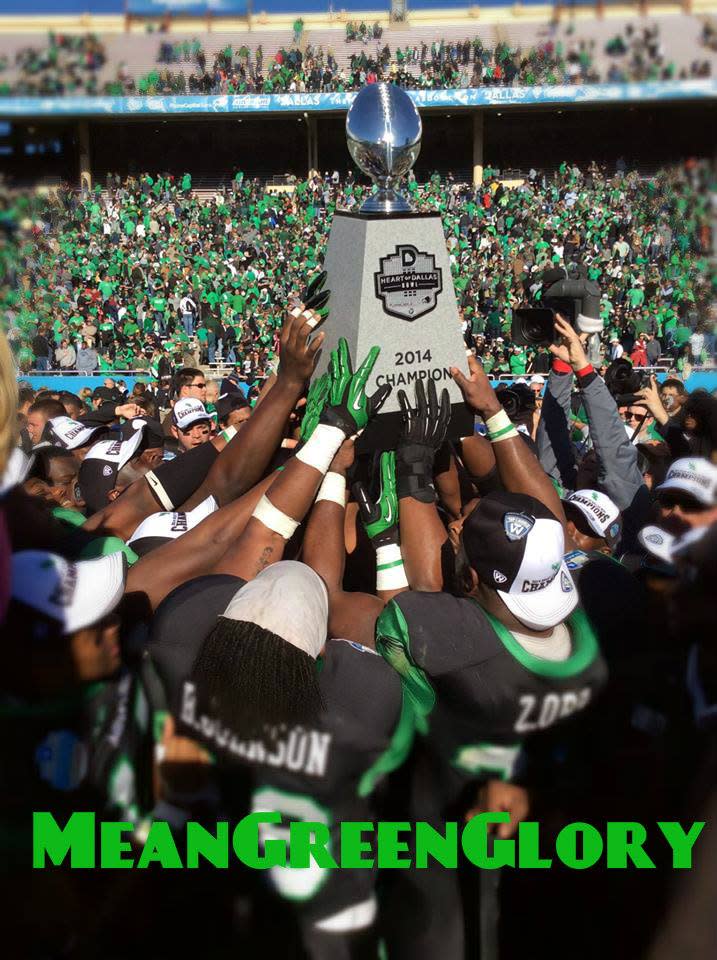 This team is on the rise after a 9-4 season with marquee wins over a 10-win Ball State team and CUSA champion Rice. Denton was alive with Mean Green Football fever for this bowl win and captured the imagination, as well as the spirit, of this fantastic town.  Let's see Denton #PackthePit with our 9-5 basketball team as they start conference games. And keep the spirit alive when football season starts again when we host the Southern Methodist Mustangs.
North Texas has had success in the past, but what it has always lacked is fan support. In the '70s, legendary coach Hayden Fry took us to 10 wins a few times. Darrell Dickey got this team to four straight New Orleans Bowls and an amazing 26-straight conference wins. Yet, the Mean Green had never averaged 20,000 fans a game until this season. During the 100th anniversary of North Texas football, that's unacceptable.  People claimed Fouts Field as the problem for low attendance in the past.  Apogee Stadium, UNT's crown jewel, sits on the hill overlooking an easy access freeway.  With such a beautiful college stadium there's no excuse not to fill it for every game next year.  If the city of Denton can double down on the Mean Green, who knows what can happen? Game attendance is a major factor in gaining national attention, almost as critical as on-field performance. How many times have you tuned into a Big 12 game with only 14,000 in the stands like we had during the Ball State game early in the year or 19,000 during the UTSA game at the end of the season?
This is a call for 'little d' to support their hometown college teams better than it ever has. This is your chance to build something special and share a unique pride among every citizen of Denton. Put away your UT shirt, your OU shirt and your TCU shirts and don the green. UNT needs everyone in the future to support the men and women in green, because we can do something special, even more than what Boise State or TCU accomplished.  Not only is Denton a mecca of music, arts and culture… we can also be the nationally-recognized home of the dangerous Mean Green with a home field advantage unlike any other.  Jump on the bandwagon now, attend the basketball games, and then be ready to scream for the green when SMU comes to town in September! Go Mean Green!