The day is blue sky and sun, early morning temps typical of Texas July.  The north edge of Denton recedes in the rearview mirror and the road ahead dips and curves into rolling green terrain, lush after recent rains.  Carefully painted wood, pipe and wire fences hem in wide pastureland on the left, the right, and beyond view far ahead.  Ranch-style houses dot hilltops clustered by even larger barns and multiple outbuildings.  Horses graze and frolic completing the peaceful scene that is Denton County's largest agricultural industry.
Denton city is just minutes out of sight, and we are in the heart of the North Texas Horse Country, home to more than 350 horse farms and 25,000 horses.  Every equine breed and discipline is represented among these ranches making this the most diverse equine concentration in the world.
A couple of miles across the Trinity River's Elm Fork and Greenbelt Park, spreads Green Valley Ranch, a leading ranch in the discipline and breeding of equine reining horses.  Just past its entrance, a country lane meanders north through smattering remnants of tiny Green Valley, population around 50 in its peak at the turn of the 20th century.  Another green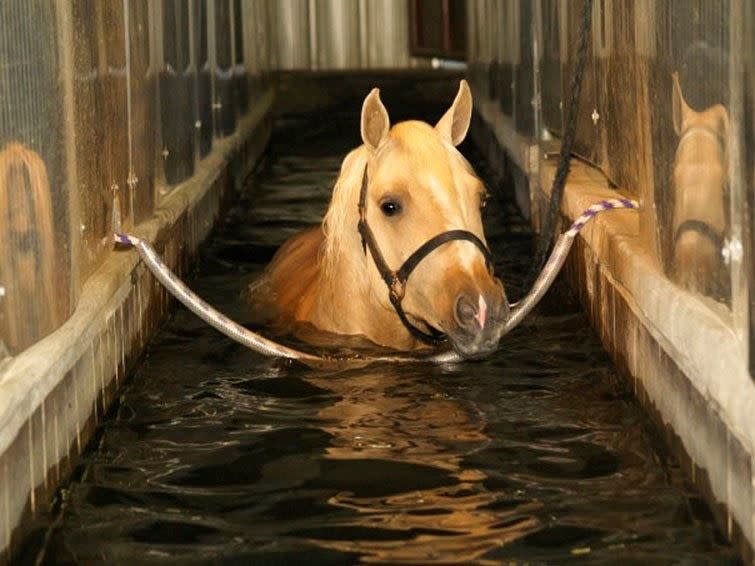 expanse stretches some 200 acres behind a gate announcing Tom McCutcheon Reining Horses.  This is our destination today.
A paved drive leads past a modest home to a large barn fronting a mammoth covered arena.  Our small entourage enters the tall doorway and steps into a lofty breezeway.  Stalls line both sides, great doors open at either end.  Smells of leather, hay and horseflesh mingle on the cool, fresh air.  A horse nearby neighs and several nuzzles poke out of stalls to scope out the new arrivals.
The ranch headquarters is a mini museum showcasing scores of trophies, photographs, ribbons, and saddles, all telling the story of the famous McCutcheons and their globally renown reining empire.  Tom McCutcheon was born into the performing horse business, his father and brothers trainers, as well.   He was a member of the 2003 USA Reining Team, winner of the Team Gold Medal at the World Equestrian Games in Spain that year.  He took the Individual Gold Medal at the 2010 World Equestrian Games in Kentucky where he was also on the gold medal winning Team USA.  He will represent Team USA again this September in the 2014 World Equestrian Games in Normandy, France.
Tom's wife Mandy is a champion in her own right, inducted into the National Reining Horses Association Hall of Fame in 2011.  She is the only woman and only non-professional reining athlete in the sport's history to make the World Equestrian Reining team and surpass $2 million in earnings.
Headquarters' back wall is solid glass overlooking the arena where trainers are busy working out several steeds.  One has her horse drilling tight circles.  Around the arena's edge, another is cantering, picking up speed before dashing into center ring in the famous crouched, sliding stop for which the sport is most known.  Yet another is cooling down his mount to prevent sore muscles after a workout.
Besides training and breeding, the McCutcheon Ranch is a premier Equine Rehabilitation Center and Spa.  The ranch's head therapist holds a woven lead for a honey-maned horse working out in the aqua-tred.  Warm water up to his shoulders, his body moves methodically, his gait without stress on the underwater treadmill.  Another therapist monitors the 35-degree salt-water bath for a huge black stallion soaking his joints, only his head visible above the bath's walls.
Back in the stalls, Gunners Special Nite shows his unique white face and translucent blues eyes.  Tom's mount in the 2010 gold medal win, this stud's seed is most coveted among the five stallions standing now at McCutcheon's, every purchaser hoping another white-faced, blue-eyed foal will result.
A special thank you to DRC Managing editor Scott Parks for sharing this incredible behind-the-scenes experience with our staff.  Hundreds of visitors to the North Texas Horse Country enjoy scenes like this on tours every year.  It is one of our most important and impressive attractions.  Many more are drawn for the business of training, breeding, and buying.  The famed professionals, ranches, barns, infrastructure, tourism, and, of course the horses themselves are incomparable to any other destination.
The horse country's impact hits home on a concluding windshield tour of St. John's Road where ranch borders beautiful ranch.  Behind every gate is something different from the farm across the fence.  It is extraordinary and true to our brand:  Denton. Original. Independent.