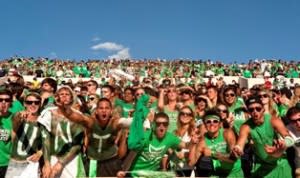 Mean Green fans at Apogee Stadium. Photo courtesy University of North Texas Athletic Department.
The University of North Texas Athletic Department and the Denton County Transportation Authority (DCTA) are partnering together for a special "Get Your Green On" promotion in conjunction with this weekend's Mean Green football game versus Ball State.  All fans and passengers wearing "Mean Green" colors or apparel can ride DCTA services FREE of charge on game day, September 14.
The game day DCTA free services include the A-train as well as a special shuttle from downtown to the base of the highway pedestrian bridge by Fouts Field. The A-train will offer regularly scheduled service between 9:00 a.m. and 11:00 p.m. on Saturday. DCTA will offer shuttle buses from the Downtown Denton Transit Center to the stadium every 15 minutes between 11:30 a.m. and 7:30 p.m.  Additionally Connect Routes 7 and 8 also provide transit connections to the stadium.  Shuttle services will also serve the businesses in downtown before and after the game. Transit service will be available between the square and the Downtown Denton Transit Center until 10:00 p.m. with the last southbound A-train leaving the transit center at 11:53 p.m.
"UNT and DCTA have always had a great partnership, and this game day shuttle is another example of that partnership," stated Jim Cline, DCTA president. "The transit connections to the stadium, accented by the activity and offerings in downtown Denton, are great reason for alumni and Mean Green fans throughout the area to take the A-train and enjoy the day in Denton."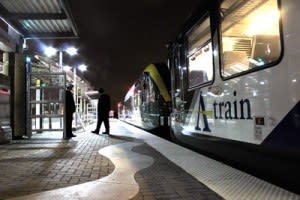 A-train at Downtown Denton Train Center. Photo by Michelle
"This is just another way that we want to create an economic impact in Denton on game days" said Rick Villarreal, the North Texas Director of Athletics. "We really appreciate DCTA and UNT Parking Services working with us on this partnership. It's the first time we have tried it, and we hope to build on the idea in advance of the November 9th Homecoming game when we will offer it again. The earlier kick times for the Ball State and UTEP games fit in well with existing DCTA schedules in Denton."
"If you have not been to a North Texas game at Apogee yet, and maybe haven't been to our downtown area in recent years, what a great way to see all the positive changes," said Villarreal. "Denton is a really large college town and the advances made in our downtown in recent years have certainly added to the choices you have on a game day. We want you on property and tailgating, but making a stop downtown for food and entertainment is also a great option before or after the games. This partnership offers those choices."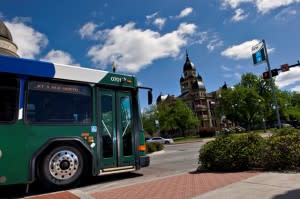 DCTA connects passengers from the Downtown Denton Train Center to Downtown and beyond. Photo courtesy DCTA.
Downtown Denton will be busy on Saturday with the annual Arts, Antiques and Autos event that will run from 9am until 3pm.  Take advantage of this promotion and enjoy music, art, food and a scavenger hunt as well as a plethora of unique shops on the Downtown Square.  Then catch the shuttle in time for the 3pm kick-off. Make it a GREEN day!
______________________________________________
Tickets to the game can be purchased in advanced online at MeanGreenSports.com or by calling the Athletic Ticket Office at 1-800-UNT-2366 or on game day at the Gate 3 entrance which is a short walk from the highway pedestrian bridge. The game kicks off at 3pm at Apogee Stadium.  Additional information regarding North Texas Football and the game day fan experience can be found at Mean Green Sports.com click on Football Game day.