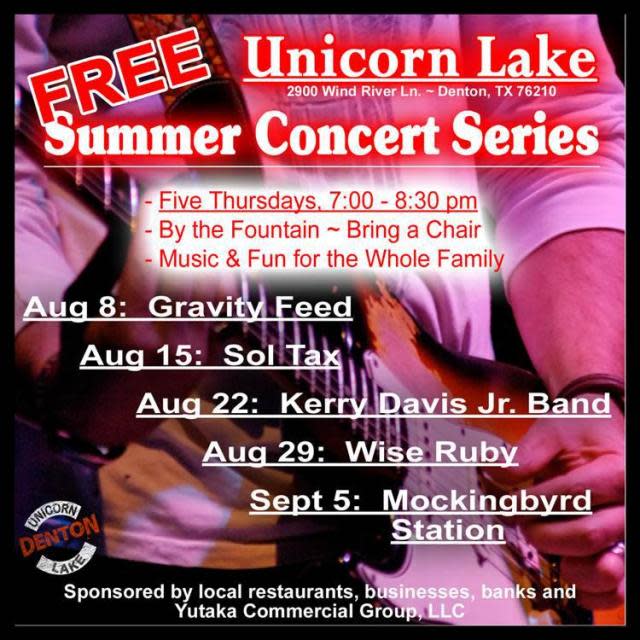 There's a local school of thought that Denton's music lives only in the downtown area and on our university campuses.  We beg to differ.
Downtown Denton is, without doubt, the hive of the Denton music buzz.  Twenty plus live music venues within walking distance of the iconic Courthouse square certainly makes it so.   And the creative scene is undoubtedly a major driver attracting unique food fare, eclectic shops, and vibrancy for which Denton is known.  But nowadays, our cup runneth over.
The musical bees are roaming farther from the hive.  Friday evenings at Rayzor Ranch, for instance, find live and local-only talent adding atmosphere to this rising lifestyle center.  The Rayzor goal?  To build that center right into the Denton psyche and the now established Original Independent Denton brand.  The new Golden Triangle Mall emerging day-by-day through its transformation is eager to plug in to the brand, as well, perhaps through live music or visual arts.  And Unicorn Lake is swarming onto the scene this month with a brand new, first-time-ever-in-Denton "Summer Concert Series."
Unicorn Lake dabbled in the Denton music scene back in the days of Café Du Luxe:  a restaurant, wine & coffee bar where patrons dined amid décor by local artists while serenaded by local singers and songwriters.  In fact, one of our Denton faves is the Link Chalon Orchestra who played there almost every weekend.  But, as it always does, change happened, and Café Du Luxe moved on.
Unicorn Lake's first anchor was the Cinemark Theater, one of the highest producing Cinemarks in that chain still today.  Tons of traffic is in and out of Unicorn Lake seven days a week. Homewood Suites Hotel is another vital anchor in the area, delivering a consistent average visitor population of 100 or more to Denton and especially to those Unicorn Lake merchants, all of whom are in walking distance of the hotel.  A great perk!  Today, Unicorn Lake is bustling with new commerce: The Pourhouse, Brickhouse Gym, Napolis Italian.  Beth Marie's Old Fashioned Ice Cream opened their 2nd Denton location there, soon joined by Sidewalk Bistro and Chuy's.  And beginning on August 8, this location is a new prime Denton music mecca every Thursday evening through September 5.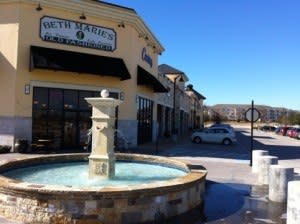 The Unicorn Lake Summer Concert Series is the first in what the collective group of merchants and owners in the area plan to be an ongoing addition to the Unicorn Lake product.  Partnering with DentonRadio.com, local live music will become a mainstay in the area and not only in summertime.  Their goal is to heighten awareness of Unicorn Lake as a year-round destination within the Denton product for locals and visitors alike.  At the same time, they are tying Unicorn Lake more closely to the Independent Original Denton brand and establishing Unicorn Lake as another live music location that extends our music scene to Denton's southern-most border.
So who's headlining this first series?
Thursday, August 8th kicked it off with groovy jazz-rock from Gravity Feed.  Then each Thursday through September 5 in this order is Sol Tax, the Kerry Davis Jr. Band, Wise Ruby, and the big finale with Mockingbyrd Station.
Think Twilight Tunes and bring your blankets, lawn chairs, coolers.  If you don't feel like packing your own picnic, there are plenty of food options from the Unicorn Lake eateries to take outside while you enjoy the show.  Concerts are in the vacant lot by the fountain near Beth Marie's from 7:00-8:30.
I love Denton music, and I'll go where it goes.  I'm not alone in this either.  That's how I know the buzz is spreading as our music finds more stages in more places.  Give a listen in a different setting.  It's still Original.  Independent.  And 100% Denton.