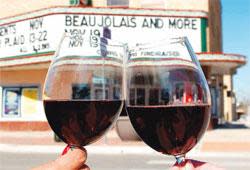 Since 1985 when the third Thursday of November was established as the uniformed release date for Beaujolais wine, shops all over the world celebrate its arrival. Denton celebrates its arrival as well, with a fundraiser for the Campus Theatre.
The fundraiser started as a small, intimate gathering and has continued to grow for the past 11 years.  Thanks to Gary and Carol Kirchoff, local Denton residents, Denton and the Campus Theatre enjoy a wine and food fest each year.
This year's festival will take place at the Denton Civic Center, November 18 from 5:30 - 7pm.  Beaujolais & More Wine and Food Tasting not only offers a tasting of Beaujolais Wine but samples of unique recipes prepared by 20 local Denton restaurants specifically to accompany the French wine.
Enjoy Beaujolais Nouveau, gourmet food and great entertainment for $25, all while supporting local Denton art.  For more information contact the Campus Theatre at 940-382-1915.