Where were you that day, November 22, 1963?
Barely two, I was toddling around the living room, my mom watching soaps while she folded laundry.  I swear I remember her distress.  And I remember my own sense that the world had somehow come undone and made my mother cry.
The day John Fitzgerald Kennedy was assassinated is one of those dates that everyone alive at the time remembers precisely the moment he heard the unbelievable announcement, "President Kennedy is dead."  Maybe my memory is real, maybe imagined.  But the fact that this event changed my world, our world, forever is no exaggeration.
For those of you who weren't born yet, the JFK assassination 50 years ago is a pivotal point in your own story, too.  The world you've known in your life began its evolution that infamous day.  It was a brave new world, though that day felt very much like an ending to the Americans who lived it.  The shots fired in Dallas begat an era rampant with strife and confusion.  It launched a cultural revolution that birthed your world, our America today.  Regardless of political persuasion, everyone saw it happening then, and whether embracing or lamenting the dramatic departure from pre-Kennedy America, every last American buckled up for the ride.
B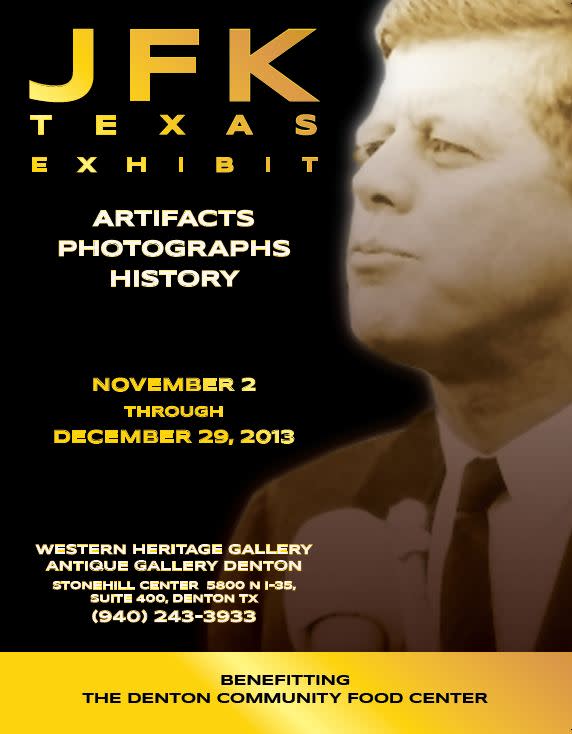 ecause the Kennedy presidency ended here in our region, the commemoration of that day 50 years ago will be vividly observed in venues all around us.  Fort Worth's downtown library and Amon Carter Museum are both featuring exhibits about Kennedy's last living moments before heading to Dallas for the parade that rocked the globe.  The Sixth Floor Museum in Dallas, a year-round exploration about that day, the Kennedy dynasty, and the conspiracy theories surrounding it, is going above and beyond to remember.  National, even international, media are already paying tribute to the importance of November 22, 1963.
And right here in Denton, at the Western Heritage Gallery on Loop 288 at I-35, an exhibit unparalleled in our city tells the story from other perspectives, including uniquely Denton angles.  For instance…did you know that there is a specific Denton connection to the events of that day?  When they arrived in Dallas, Jackie Kennedy was presented a gorgeous bouquet of long stem red roses, a gift from Jack Baker Florist on Elm Street, gone now but here in Denton for decades. The photograph of Jackie cradling those roses is among the memorabilia, largely shared from private collections, on display now through December 29.
The Denton exhibit is vast, categorized into five sections:  the final day of JFK's life; the events that ended his life in Dallas just a few short hours later; the living years of the Kennedy administration; memorabilia of the raging 60s pop culture; and memorabilia of the presidencies leading up to the Kennedy era, beginning in WWII.  This final section also includes pieces from presidential administrations that followed Kennedy and a section on Martin Luther King, Jr., Robert Kennedy, Malcom X – all giants who violently lost their lives during the tumultuous 1960s.
The JFK Texas exhibit is impressive.  Audio featuring news bytes as Americans were hearing them for the first time that day add a powerful layer to the tour experience; photographs; media coverage; important memorabilia of the day; books; posters.  The point is you can glean from the collection right here in Denton why November 22, 1963 is a day America will never forget.
On November 16, the Western Heritage Gallery is "Remembering 50 Years."
"This is not going to be a dirge," explains Brett Jones, the gallery's General Manager.  "Tours of the exhibit, automobiles and music from the era, food and refreshments promise a good time.  But like our exhibit, it will be dramatic and respectful, too."  Tickets to the event are $20 and proceeds will benefit the Denton Community Food Center.
JFK Texas is a free exhibit, open Monday-Saturday 10:00 a.m. to 6:00 p.m. and Sunday from Noon-6:00 p.m.  Where were you at that moment on November 22, 1963?  If you were born, you remember.  If not, then here is your chance to learn, to identify as an American.  JFK Texas is not to be missed.