Spring is here, and in Denton, that means it's time for one of our favorite festivals- Denton Arts & Jazz Festival. In its 33rd year now, the three-day-long festival will kick off on Friday April 26th and run strong through Sunday April 28th. It's full of fun for people of all ages, and it's free to attend. The festival can easily move from high-energy to relaxing. Which is why more than 250,000 people attend Denton Arts & Jazz Festival every year.  For some, it's an annual tradition.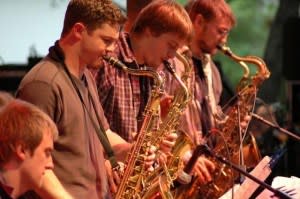 With more than 2,700 artists performing on seven stages around the festival grounds, music-lovers will get to hear all different types of music- jazz, blues, cross-cultural music, and more. In fact, from one band alone you can hear the stylings of salsa, meringue, rock, cumbia, conjunto, polka, zydeco, classical, cha cha, the blues and more. Those would be the Grammy Award-Winning sounds of Denton's own Brave Combo, who rocks it at Denton Arts & Jazz year after year. Catch this must-see performance Sunday night at 7 p.m. at the Wells Fargo/Budweiser Stage. Headlining Friday night at 9 p.m. will be theDavid Sanborn Trio, and at 9 p.m. Saturday night headliners will be the "Original" Blues Brother Band.
While you're moseying around Quakertown Park, catching great music and moving to the beat all the while, check out the vendor booths for some great handmade items (perhaps you'll find a nice gift for your mom there for Mother's Day?). With so many booths both indoor and outside at the festival, you can find all kinds of goodies- anything from handmade and eye-catching jewelry and beautiful artwork to cufflinks made from antique watch pieces and personalized golf tees.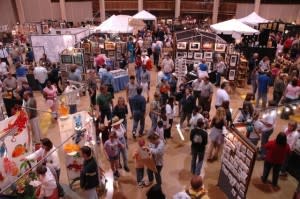 If you're bringing the kiddos along with you, be sure to stop by the Children's Art Tent where they'll get some great hands-on experience learning how to mold, draw, sculpt, and create their own artwork they can be proud of. And if your little ones have been enjoying all the great music, bopping around and creating their own dance moves, they'll enjoy the Percussion Tent. It's like a petting zoo but with musical instruments instead of furry friends. The whole experience at Denton Arts & Jazz will have you wanting to come back every year. When you're there, you'll find yourself wanting to spend the entire day, soaking it all in… But don't forget to eat! The festival has six food courts with all the delicious and fattening fair food you could ever want- decadent funnel cake, refreshing frozen lemonade, mouth-watering corn-on-the-cob… Mmm!
It's sunny days ahead.  You'll feel like your "spring has sprung" after an awesome weekend at Denton Arts & Jazz Festival April 26-28th.