The Arts Guild of Denton (TAG) is going all out with their vintage Vegas theme for this year's Auction for the Arts celebration, November 12.  The Center for the Visual Arts (CVA) will be transformed into a dazzling scene complete with parading showgirls and cameo appearances by Elvis and "old blue eyes."  The doors open at 6:00 pm.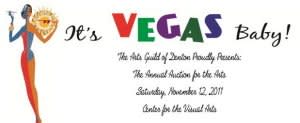 Auction goers can enjoy the plentiful food and drinks and spend some time in the "High Roller Lounge" for the Silent Auction, featuring a dizzying array of items to bid on. Dozens of local businesses and individuals have generously donated merchandise and services for the event. Lavish gift baskets, delicious restaurant meals and automotive services are only a few of the items available.  Make sure to get your bid in early because the Silent Auction closes promptly at 8:00 pm!  Another "don't miss" from 6:00 pm to 8:00 pm is the Baccarat Room where you can try your luck at the Wheel of Fortune to win prizes and discounts on items auctioned in the main event.
Just after the Silent Auction closes at 8:00 pm the excitement really gears up with the main event!  This year's Live Auction has some truly unique offerings up for bid.  NASCAR fans will have the opportunity to snag grandstand tickets, jewelry lovers can have one-of-a-kind pieces designed just for them, fine dining aficionados will have several chances to dine in or go out on the town, travel buffs can try to win a trip to Taos or South Padre.  Works of art in a wide variety of mediums and styles will be up for bid throughout the evening as well.  Many other items and adventures are on the menu for the evening including one very special treat where 20 lucky people will have a chance to experience an hour-long flight over the metroplex aboard the Flagship Detroit, a fully restored vintage American Airlines DC3.   The outing also includes a tour of the American Airlines hangar at Alliance Airport and a one year membership in the Flagship Detroit Foundation.
All proceeds from Auction for the Arts directly benefit arts organizations in Denton.  Since its inception in 1980, TAG has helped strengthen and increase the reach of these groups by contributing over $1 million.  The annual auction is the major fundraising event for TAG and its success provides the means for arts groups to enhance the cultural climate of the Denton community.  Auction goers not only have the opportunity to acquire a special treat for themselves (or get some extraordinary Christmas gifts), but also to play a vital part in making Denton a distinctly desirable destination.
This entertaining event will be held at the Center for Visual Arts located at 400 E. Hickory, Denton, TX.   Tickets are $25 for TAG members and their guests, $30 for non-members when purchased in advance, and $35 at the door. Tickets can be purchased by calling Elizabeth Headrick at 979-549-2657 or emailingElizabeth.Headrick@gmail.com.