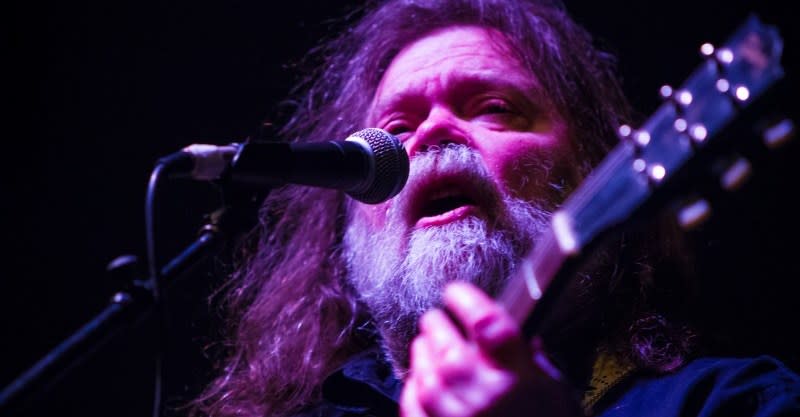 A typical Denton scene:  a few guys get together to swap stories and languish away a summer evening.  As happens often in Denton circles, the conversation turned to music.
Randy Robinson, President of Access Bank, decides this is the right time and place to propose an idea he's been massaging for quite awhile.
"I love the Denton music scene.  But, sometimes, I really just want hear tunes I know.  You know, our music."  His buddies nod in agreement.  "So, what if we had our own music festival?"
"Great idea!" "Let's do it!" "What'll we call it?"
"Geezerpalooza," Randy announced.  Amid the laughter and guffaws over the name, a new Denton event was born then and there.
A lot of back and forth ensued over the next few weeks about the geezer reference, understandably because these guys aren't what I imagine when I think geezer.  While these 50-somethings don't see geezers in the mirror either, they thought the name was funny and comically referenced a generation whose soundtrack is mostly played on FM oldies stations these days, rarely featured in Denton's predominantly indie music venues.
Let me butt into the story here and take you back almost 45 years to Labor Day Weekend 1969 in Lewisville, just two weeks after the famous Woodstock festival.  Over 100,000 people, hippies included, converged on the then sleepy little town for a Woodstock repeat in the area of Lewisville now known as Waters Ridge, just off I-35 E.  The A-train actually runs right through the original site and an historical marker placed there just a few years ago will tell the story of the 3-day-long Texas Woodstock for generations to come.  It was called the Texas International Pop Festival and featured many of the Woodstock flock on stage:  Sly and the Family Stone, Janis Joplin, Santana, Canned Heat, plus a lot of the era's greats that skipped New York like Led Zeppelin and B.B. King.
What do these two stories have to do with each other?  The "geezer team" remembers those days.  Some were even there, though I won't name names.  But with the 45th anniversary looming of what at that time was the largest music festival ever held in Texas, why not give a nod to that event, maybe even lay some groundwork for something bigger next year or at least for the 50th?  Even geezers still dream big.
Industrial Street Pop Festival aka "Geezerpalooza, a Denton Original" is coming to Denton on Sunday, October 18, from 1:00-8:00 p.m.  The geezer team is headed up by Geezer-in-Charge (GIC) Randy Robinson along with Tim House, Richard Hayner, Dan Mojica, Shaun Treat, Pete Kamp, and a few helpers like Julie Glover and yours truly.  The event will unfold in the heart of Denton's music scene, the Industrial Street entertainment district, surrounded by Denton's hot spots for food and beverages.  Back porch conversation areas are designated for '69 alums to rehash the old days.  And, the festival hours keep bedtime in mind so we can make it to work feeling chipper on Monday.
Dan Mojica is the music planner and he's got quite the lineup of super tribute bands playing the genres of our younger years:
1:00 PM 60s-70s Trivia with Scott Porter and Prizes!  (Inside Dan's Silverleaf) 2:00 PM 4 Way Street (Crosby, Stills, Nash, Young) 3:30 PM LZ129 (Led Zeppelin) 5:00 PM Bar Band (The Band) 6:30  PM Naked Lunch (Steely Dan)
My daughter, who grew up listening to my music, wondered if only geezers are invited.  No way!  Everyone is invited, and it's free, though donations benefiting Serve Denton are welcome.
Check out details on Facebook:  Industrial Street Pop Festival.
To sponsor, volunteer, or get involved, contact the GIC Randy Robinson at (817) 996-5076.  To learn more about the 1969 event in Lewisville, visit the Industrial Street International Pop Festival website.
Denton's got sound.  Everybody knows it.  We are a music city, and music-lovers in our city come in all shapes, sizes, styles…and ages.  Geezerpalooza is merely adding another layer, a missing layer, to our wealth.  Some may sneer at the tribute band concept, saying there is no originality there.  But au contraire!  This was the original music of "back then" and it deserves to be brought out and dusted off.  It's how we rolled!  Someday, future generations will do the same with the new original tunes.
This is going to be a blast.  See you there!