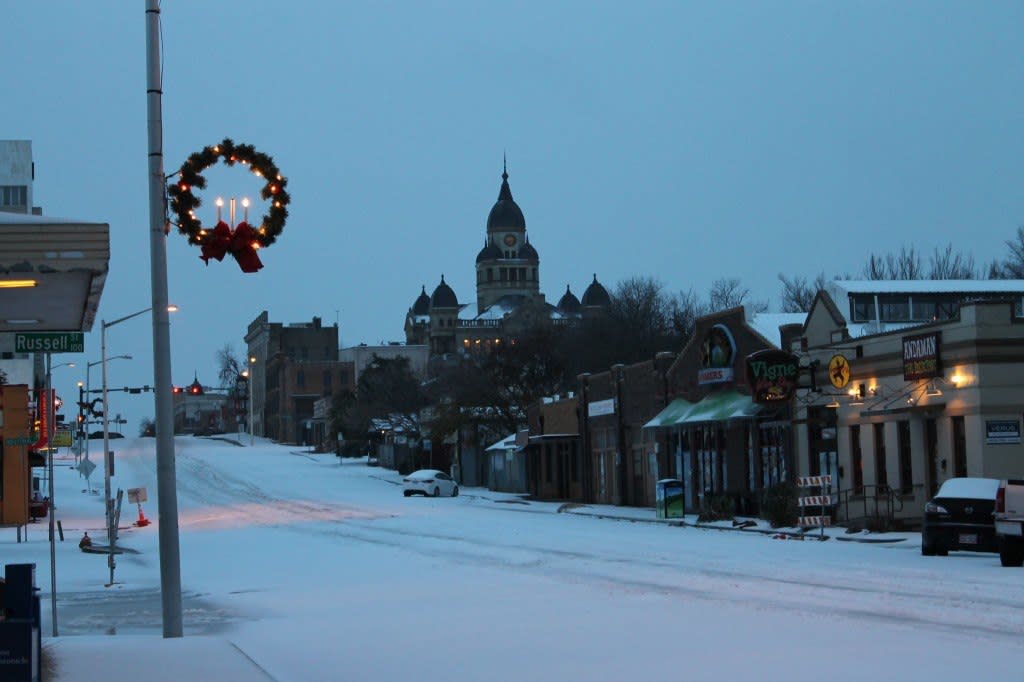 DFW Ice Apocalypse.  Icemageddon.  Icepocalypse.  DentonIce.  Super Bowl 2011 Déjà vu.  All appropriate banner names for what we have lived to tell after the sky fell on Thursday, December 5, and cocooned us in a giant frozen collective igloo for days without even a snowman to show for it.  These were not fun snow days, though some kids in our neighborhood employed incredible imagination to fashion sleds and make the best of the thick ice on the nearby park's slopes.
Cabin fever was a real malady for most of us.  Social media certainly worked in our favor as far as sharing ideas for creative ways to beat it.  iPhone video of ice hockey in a parking lot at UNT, improvised sledding, ice skating near restaurants along Loop 288, and skiing as a preferable means of transportation are just a few of the creative activities Dentonites were about.  Check out a couple of my favorite go-to websites to see some of these images:  We Denton Do It and Only in Denton.
We humans are quite adaptable if you think about it.  Facebook comments about food in the pantry, or lack thereof, even demonstrated ingenuity as empty grocery store shelves inspired very unusual combinations in our kitchens.  We rose to the occasion and did what we had to do.
The ice storm was serious.  We all followed the news and know hundreds of thousands were without power.  Even more people likely thought the media was just having a slow news day, exaggerating weather predications, and so skipped the ice storm preparation phase.  Luckily, at my house, we stocked up just in case.  We had food, firewood, candles, batteries, dog food, and full tanks of gas in our cars.   Fortunately, we never lost power and pipes didn't freeze, so except for the shroud of gray and isolation from regular life, we fared fine.
I found myself thinking a lot during the ice-in about the people out there who didn't get to choose whether to get ready or not.  They have what they have on their backs and that's about it.  They don't have pantries to supply, much less the supplies themselves.  They don't worry about power and water pipes because they do not have homes. Sledding, playing and cabin fever never crossed their minds.  They honed in on the most basic of needs, like shelter.  For these among us, the ice storm was truly a life or death situation.
One aspect of Dentonites' character that I love most is our sincere desire to help each other.  As I considered these most desperate Dentonites, I realized our community works almost feverishly all the time in order to prepare for these thankfully rare days of community calamity.  Day by day individual disaster is not so unusual at all, though.  Bad things happen.  It's one of those absolutes in life.  But the outreach built into Denton's culture is another of those truly unique things about us.
Look at the I heart Denton guys.  These four brothers raised in Denton, started a non-profit with the simple mission of helping fellow Dentonines.  They created the wildly popular I heart Denton t-shirts and stickers.   Exactly 100% of the revenue generated from the merchandise sold is applied to the purchase of heaters in winter and fans in summer for needy Denton homes.  And theirs is just one story.
Here's another one.  Every Christmas morning, volunteers wake at the crack of dawn, leave unwrapped Santa gifts under the tree, and go downtown to Sweetwater Grill & Tavern.  They work to prepare and serve Christmas dinner to the hungry.  Their own Christmas waits because giving to others means more than receiving.
There are hundreds more.  Cumberland Presbyterian, Ruth's Room, Bart's Barn, North Texas Food Bank, Serve Denton, United Way, area churches, university student groups, festivals, toy runs are all but a few examples of the established organizations engaging thousands of volunteers.  These are people who regularly schedule time from their lives, carving it from their days like a part-time, unpaid job.  Their goal is being part of keeping these outreach groups and activities healthy and able to offer the right help in the specific situation when it is needed.
Even still, shelters around Denton beckoned to the cold, hungry, and homeless.  They stop what they are doing and welcome these folks to life-saving warmth and food, respite from the critical situation brought on by the ice storm.  These are not the funny, playful stories that earn lots of likes on Facebook.  But, they are the stories of the real Denton, the heart of this place, and the underpinning of our special brand of original independence.
I really missed you all during the 2013 ice-in.  I don't know about you, but I've got a lot of catching up to do now that Christmas is just over a week away.