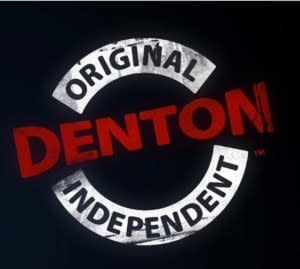 Tyler San Miguel couldn't believe his ears on Tuesday night, May 15, when his name was called from the Denton Independent School District's Audio Video Production "Feature Fest" awards platform.  "First place and the brand new iPad goes to…"  Wow.  Me.  The room erupted in applause as Tyler made his way to the front of the room, incredulous smile beaming as he shook hands with Kim Phillips.
Phillips, Director of the Denton Convention & Visitors Bureau (DCVB), presented the awards in the first-ever "I Am Denton" contest, originated and sponsored by the DCVB.  "Our marketing brand is Denton. Original.  Independent.  And, the magic that makes Denton unique is our community, the people, "Phillips explained.  "The idea behind "I Am Denton" is to demonstrate Denton's originality and independence through her characters."
The DCVB intends to use these character sketches as the beginning of an "I Am Denton" YouTube library that can grow exponentially with community-wide engagement as the concept catches on.  "Every one of us knows characters; we are characters!  Our stories become Denton's story, and this is the essence of "I Am Denton," Phillips said.
Tyler has talent.  His parents know it.  They aren't surprised he won, but thrilled for the validation that Tyler's passion has potential for his professional future.  It is a fortunate person who gets to spend life doing what he loves.
Chris Vochoska isn't surprised at the win either.  Tyler's creations in the Denton ISD Advanced Technology Complex's Audio Video Production class have been stellar from the start.  "Tyler is a very talented student and he did a great job of telling an interesting story about the people of Denton.  He was able to visually demonstrate his knowledge and craft to create a video with meaning and impact."
Macie Hornsby took second place and $500 in the "I Am Denton" contest, followed closely by Mason Croney in third place with a $250 award.  Jamie Brand earned the $200 People's Choice award, in a week-long online voting contest on Facebook.
The "I Am Denton" contest is the result of a new partnership between the DCVB and the Denton ISD Audio Video Production program.  Students get to compete for valuable prizes while applying what they've learned to authentic, real-world media work.  They practice interviewing, producing, directing, editing and every aspect of excellence in media arts within this contest.  On the other side of the partnership, the DCVB gains these creative students' unique perspectives for how to talk about Denton and engage this emerging generation.