The A-train pulls into the station right on time.  It is late afternoon.  Waiting passengers gather their gear while bags, backpacks, briefcases, and even a bicycle emerge from the sleek light rail cars from points south.  Some 2,000 people garbed in everything from suits to hoodies are to and from Denton via the A-train every day.  That's 60,000 riders a month!
Watching the arriving travelers disperse, some to their cars, others walking or cycling toward downtown, I think about how quickly Denton is evolving and how fittingly we have named our transit center after former Mayor Euline Brock.  In her more than 20 years of service and leadership to our city, she championed the dream of progress and prosperity while holding fast to our heritage and roots.  Hers is the vision that guides Denton still today, clearly evident in the 2030 plan defined by our citizens over the past year.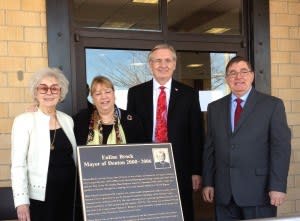 Yes, the Euline Brock Downtown Denton Transit Center is the perfect tribute to an ambitious dreamer and leader. It is a monument to masterful mixing of progress and preservation, the magic combination that will keep Denton uniquely Denton as we rocket into our future during this era of unprecedented growth.
What is happening in Denton is special. We are delivering on our original independent brand, and the world is taking notice.  On Wednesday of this past week, March 19, The Huffington Post named Denton as the top hot spot in Texas to visit.  Here is journalist Mallika Rao's headline:  "Forget SXSW, Here Are 8 Emerging Cultural Hot Spots You Need To Visit In Texas."  While not so into Austin, Rao is all about Denton.  This is a super though short read, and I encourage you to bask in it.
While we are getting used to seeing Denton in the limelight, it will never get old.  We pride ourselves on being "Little d," but what's going on in Denton is nothing short of enormous.  Our virtues have been touted by international media across the globe in recent years from the music and arts scenes to organics and conservation and from main street idealism to horse country.  In January, Yahoo! named us among the top six small towns in America.  And how can we forget the massive attention we garnered in 2012 when Rand McNally and The Travel Channel honed in on Denton as the second most fun small town in the nation.
The Huffington Post has nodded our way more than once.  But this, people, is really big.  HuffPost is AOL's news outlet with a digital population of 89 million unique visitors every month.  More than a mere magazine, The HuffPost is the foremost news media model in the world and the first ever to win a Pulitzer Prize.  Its content covers breaking world news from vast viewpoints.  Their mobile population alone is 59 million racking up nearly 250 million page views a month.  All combined, HuffPost regularly caches over 4 billion page views from unique users.  That is a mind-boggling audience, and Denton made the homepage of the Arts & Culture section last Wednesday.  Incredible!  Yet, of course!
More than any Texas destination, Denton is scoring accolades right and left for the original independent "something" that sets us so dramatically apart from the rest.  The fact that so many "somethings" are all succeeding in our little corner of the planet is the secret.  While HuffPost zeroes in on us as an "Indie band factory," we are indie about everything.  Ours is an original independent culture that fosters creative thinking and indie entrepreneurship of much more than just music, although the sounds coming out of Denton are the soundtrack of our spirit.  Music is the medium by which the world is discovering us.  Outlets like DentonRadio.com are vital vehicles delivering our brand far beyond our region.
This week, we take our brand on the road to Austin.  As they did last year, DentonRadio.com is sponsoring the music at the Texas Travel Industry Association's Unity Dinner event at the Austin Convention Center where 1,000 elected officials and travel industry leaders will gather to recognize the importance of the travel industry on Texas's economy.  I will give all the glorious details of this adventure next week, but in the meantime, isn't it awesome that Denton music graces such an elite gathering in the heart of our capital?
It began with dreamers like Euline Brock who love this city and, since our beginnings as a tiny town on the Texas prairie never stopped believing in the vision of this Denton.  And, folks?  We are just getting started!