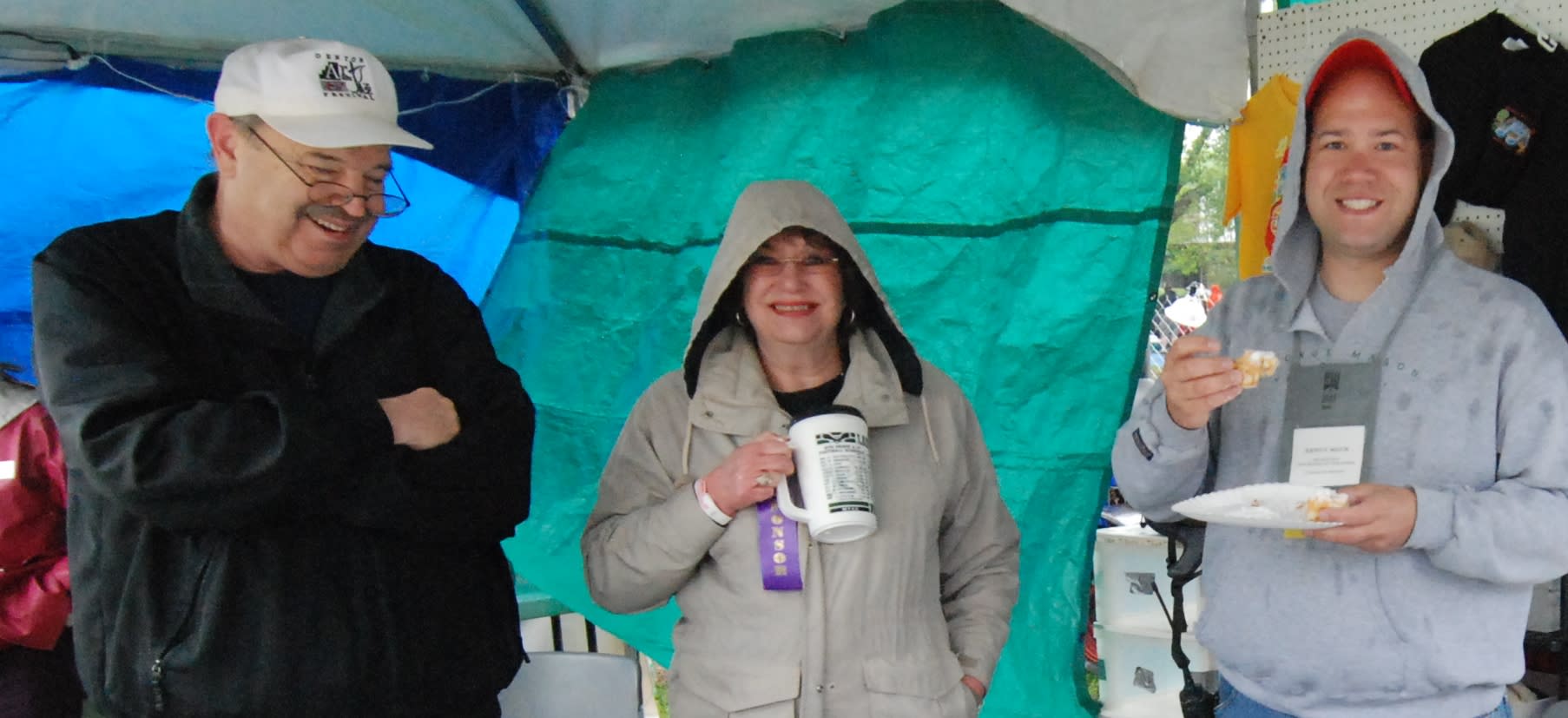 Volunteers on their own time, rain or shine
How many Dentonites does it take to screw in a light bulb?
This is not a joke...thought it sounds like one.  The original joke went something like this:  "How many Aggies (or whatever group of people one wished to poke fun at) does it take to screw in a light bulb?  Three:  One to hold the light bulb and two to hold the one and turn him round and round until the job is done."
I propose that it's not about the light bulb.  What matters is the resulting light when the bulb is good and properly installed.  The real question, then, is "how many Dentonites does it take to make the light come on?"
The light came on for me recently while sitting in one of many meetings I regularly attend where groups of people are working together in an effort to make a difference.   I considered the individuals sitting around the table and realized what a fantastic dynamic was underway.  There were a couple of bankers, two or three restaurateurs, several private business owners whose product and customer base are widely disparate, an educator, university representatives, government employees, and a couple of non-profit representatives.  Under "normal" circumstances, these folks would have little in common.   But in Denton, our compass for normal is, well, not exactly the perceived norm.   We are uniquely fortunate in that most of us perceive ourselves as connected to each other by one shared denominator:  Denton.
Denton is truly an original, independent place.  This is not my first destination marketing rodeo and I assure you that most cities do not have what we have:  a vast array of people who are original, independent, creative thinkers willing to work together toward a common goal for the greater good.  From grassroots concepts to individual organizational ideas to city leadership, Dentonites consistently lean toward engaging rather than alienating each other.
The recent North Texas State Fair & Rodeo is a stellar example.  For 88 years, a sparse staff has worked hand-in-hand with thousands of volunteer community members to produce and promote this event which draws attendees, participants and competitors from all over the country and beyond.  These visitors experience Denton through the Fair and leave our city with a story to tell that sends more new people our way the next year.  That's one reason attendance at the Fair keeps rising.
Because ours is a city of festivals, the same story is unfolding year round in other great events for different audiences with different interests, like the Arts, Antiques & Autos Extravaganza that just wrapped up yesterday on the Square; the Blues Festival coming up next weekend at Quakertown Park; GreenFest at the Greenbelt and Wild Beast Feast at the Fairgrounds the very next weekend.  Then the Canned Festival is in Williams Square downtown the weekend after that.  Then comes Beaujolais, Holiday Lighting Festival, Wassail Fest; and then, it is 2014 and more than 100 events will transpire again as they successfully do in Denton year after year.  Every one of these original, independent events involves countless hours invested by people just like the ones sitting around the table in that recent meeting and in every other meeting filling up weekly calendars.  In a society where time is money and money is time, why do these people do it?  Why such selfless priorities?
Beyond festivals, we have ongoing projects like Denton 2030, Better Block Denton, DentonRadio.com, the Chambers of Commerce, Denton Community Market, and countless educational, religious, and service initiatives - every one of which not only utilizes volunteers but relies on them as their life's blood.
Denton is the most engaged, involved, passionate place I've ever known and it's because of people who really get who we are and are willing to set aside personal agendas in favor of joint agendas that enhance all of our quality of life.  And as the Denton story reaches visitors out there through the CVB's brand promise, the efforts of all of these investors result in a Denton Original Independent experience that is new every time and second to none.
So, how many Dentonites does it really take to make the light come one?
Answer:  every last one of us.