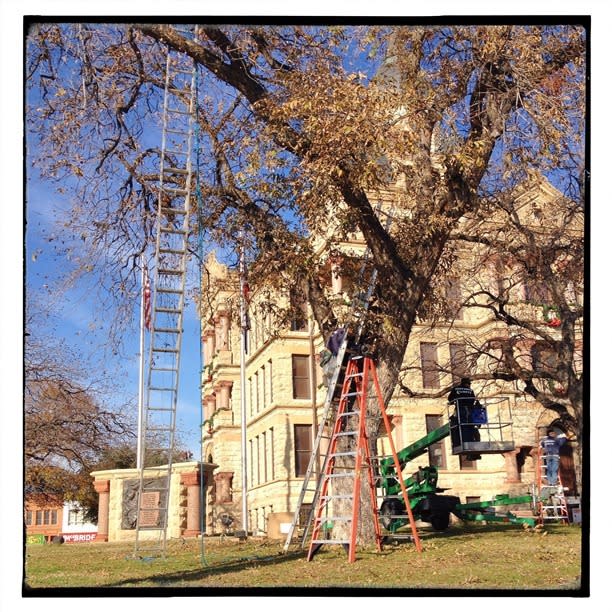 The Courthouse-on-the-Square makes preparations for the Holiday Lighting Festival.
Hooray for the holidays!  You might be wondering what activities there are to do around Denton with your family.  Maybe a more appropriate question to ask is, "How awesome is this town?"  There are so many special holiday things to do!
Probably the most famous is the 25th annual Denton Holiday Lighting Festival, which is happening this Friday evening on the square.  This is a very family friendly event, with music and entertainment!  It's also a very popular event, so please check out the parking and transportation information here before you go with your family.  I've been with the babies and the elderly, and it's helpful to take advantage of the transportation provided.  You can even ride the A-Train for free and get hot cocoa, coffee, and cookies with the secret password!  Also, be sure to check the  weather and bundle up!
The City of Denton also hosts holiday fun!  You can do the Reindeer Romp, visit with Santa, and even drop your kids off for a day of fun while the adults go shop!  Be sure to notice which events require advance registration.
Go see Miracle on 34th Street at the Campus Theater.  This is a wonderful experience for children who are old enough to enjoy theater!
Help the Marines brighten a child's holiday by participating in the Toys for Tots drive at the Golden Triangle Mall, now through December 13.  What better way to teach your child the joy of giving?
Last, but certainly not least, consider attending a religious service at your preferred place of worship.  Maybe you have a religious home, or are ready to find one, or choose to appreciate the spirituality of nature with a walk outdoors.  Reconnecting with something greater than ourselves helps us to appreciate the season even more.
Here's to the happiest holidays ever!