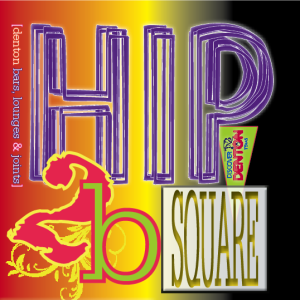 The Denton Convention & Visitors Bureau's all new Hip-2-B-Square brochure hits the streets in May with lots of exciting new content – content driven by new businesses clambering to be in the heart of Denton's hip downtown district.
Denton is special.  The CVB team members know this perhaps better than anyone else, working as they do year-round to promote Denton, often rivaling for tourism business against cities similar to Denton in size and demographics.  "The Denton product always outshines competitors when the contest comes down to "sense of place," says Kim Phillips, CVB Vice President.  "When clients pit our Square against other Texas town squares, we win most of the time."  A testimony to this fact, Denton will host the Texas Main Street Managers Preservation Conference in June 2011, all of their conference activity centered downtown – the crowning triumphant edge that secured Denton as their host.
Denton's appeal is the fact that it's real.  No faux downtown copying Anywhere, USA.  What Denton has is uniquely Denton's – buildings and ambience.  The result is a personality, a vibe that even casual observers pick up on quickly.  The vibe is vibrant, a pulsing energy all day that doesn't stop at night.  After hours entertainment has become one of the biggest economic growth areas for downtown – and the whole district is that much more hip, that much funkier, and that much more of a draw because of it.
The Industrial Street businesses have been a magnet for diners and nightlife seekers for several years.  Their pull is all the stronger now with the added action of their cross street:  the daily-evolving Hickory Street development that includes loft-style living, cool restaurants like Weinberger's Deli, Raman Republic, the newly opened Love Shack, and soon-to-open Mellow Mushroom.  New pubs like the smoke-free Hickory Street Lounge and Cellar 22 add texture to the already-bursting-with-color fabric along Hickory Street and around the Square:  Abbey Inn, Beth Marie's,Loophole, Ruby's Diner, J&J's Pizza, Abbey Underground, Andy's Bar, Hooligan's, Vigne, The Labb, Banter, and on and on and on.  And the entire hip experience is anchored by our beautiful courthouse – one of the most photographed courthouses in all of Texas and keeper of our story in the Courthouse-on-the-Square Museum.
Yes, Denton's downtown life is rich fabric indeed.  And visitors are drawn to it, becoming just as enamored as do the locals.  We have the real deal downtown which is why everyone is discovering that in Denton, it just is "Hip-2-B-Square.
Hip-2-B-Square is available at the Denton Chamber of Commerce/Convention & Visitors Bureau lobby at 414 Parkway and is available for download at www.discoverdenton.com.