Now the world knows what Denton has known all along:  Denton is officially FUN!  Come see for yourself at one of the Denton watch parties on July 25.  The limited edition "Fresh Traveler" orange shirts will be available for purchase at the watch parties and are available for pre-order now.
Denton hosted video crews from the Travel Channel, Rand McNally, USA Today, and CBS all at the same time during 4th of July week.  All of the videographers were in town filming Denton for the Rand McNally/USA Today "Best Small Towns in America" contest. The Travel Channel produced a show featuring all 30 of the finalist cities, including Denton, in an hour-long special that will air on July 25 at 7 pm.  The City of Denton, the Denton Convention and Visitors Bureau and the Denton Main Street Association partnered to facilitate Denton's contest experience and exposure.  The amazing success Denton is garnering as a finalist city is largely attributable to the entire community becoming engaged and involved in putting Denton's best foot forward and making our city shine.
The July 25 watch parties invite everyone to come together again and celebrate Denton's Travel Channel debut.  For watch party locations visit www.DentonistheFunnest.com or follow us on Twitter @discoverdenton or "Like" us on Facebook at DiscoverDentonTX.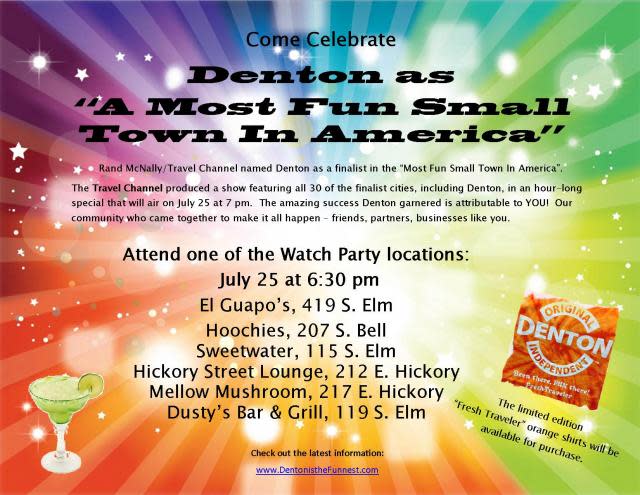 Get a glimpse of how the fun unfolded in Denton with this video produced by the City of Denton's DTV chronicling highlights from the judges' 48 hours in our city.   And, enjoy video from "Best of the Road" about the 4th of July in Denton: