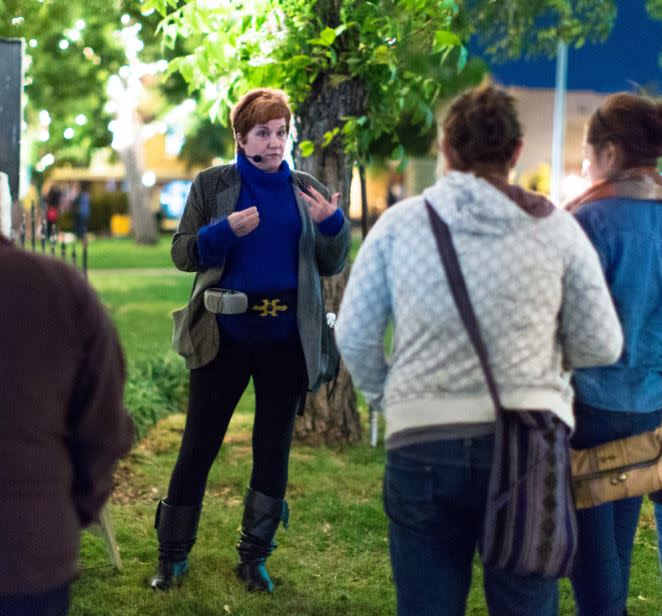 A spiky halo of fiery red bends over the book.  She autographs the inside page with a flourish.  A shocking white thatch at her forehead sets blue eyes ablaze as she raises them to the man standing at the table.  She closes the cover and hands over the book with a mischievous smile.
It's a release party for her first book Ghosts of Denton: The History of the Mysteries of a Small Texas Town.  She is Shelly Tucker, otherwise known as The Ghost Lady.
The Ghost Lady is a fixture in Denton.  Every weekend, she wanders the streets of downtown in the dark followed by a pack of people a score or so large.  She leads them across the courthouse lawn, around the square, up and down side streets stopping here then there along the way.  When her footsteps pause, the people gather close so as not to miss a word of the spinning yarn.
Shelly is a professional storyteller.  She is, in fact, another of the famous among us.  Hers is an expression of original, independent art spanning a 27-year-long career. The Texas Commission on the Arts recognized her work when, in 1997, they included her on the Texas Touring Artist Roster.  Then in 2008 the National Endowment for the Arts named her an "American Masterpiece."  These are accolades of the Grammy-kind in the storytelling world, and she had told her tales all over it.
Denton's history is one of many fibers in the fabric of our city about which more of us than not are fairly complacent.  It's like a lot of things we see everyday or knowledge we possess but rarely consider.  We are proud of our rich heritage.  We boast about our historic buildings, markers and monuments.  We are enamored of our heroes.  But honestly, how often do we dig into their stories?
Thousands of ghost story tellers across the globe are capitalizing on the public's desire to be scared out of their wits.  It's really not difficult to believe considering the billions Hollywood has earned scaring moviegoers.  TV bankrolls ghosts as well.  Among a number of popular series, the Travel Channel's "Ghost Adventures" is a good example. In recent years, ghost seekers have actually earned a niche in the tourism industry planning entire vacations around rumored haunted destinations.  Often books like Shelly's catch a ghost buster's attention.  They plan their journey with book in hand, their quest an authentic paranormal experience.
Her love of history and research combined with her talent for storytelling has turned Shelly into one of Denton's consistently enjoyed attractions for visitors and locals alike.  Her mission in telling tales has been to promote education and literacy since she began.  She founded Ghost Tours of Denton two years ago to blend history and entertainment in hopes of sparking a desire to learn in her listeners.  Since then, some 2,000 people have embraced Denton's history shrouded in hair-raising mystery and spine-tingling fun.
According to TheAwl.com, America's Unregulated Ghost Tour Industry, a place needs certain characteristics for ghost tours to succeed.  Interesting, historical architecture and vibrancy in the touring area are musts.  Denton has both.
"Any town that boasts a grave on the courthouse lawn ought to have a ghost ... or two," Shelly laughs.  John B. Denton's resting place at the southeast corner of our community living room inspires her to tell history through our ghosts.  Old Sam Bass, John Denton, Jim Murphy, and many more ghosts of Denton captivate listeners as she weaves their true histories into narrative stories that haunt long after the tour ends.
Shelly is not alone in her passion.  Denton's long-standing home to the Tejas Storytelling Association's headquarters and host city to their annual spring festival are evidence that the art of story is alive and well in Denton. Story, in fact, is the oldest human art form existing long before the written word.   Those whose talent has harnessed the art through millennia have given mankind our history.  And Shelly has given Denton a fantastic visitor attraction.
"So, is Denton really haunted?" asks the next person in line sliding a book across the table for an autograph.
Again, the mischievous smile and The Ghost Lady says, "Let's go for a walk and I'll show you.  Then you decide."
Visit www.ghostsofdenton.com for tour and book details.