Clancy Hardin will take his next career step beginning September 4, 2012, as the Destination Events Manager at the San Marcos Convention & Visitors Bureau.
Hardin joined the Denton Convention & Visitors Bureau (CVB) team as an intern in the University of North Texas School of Tourism & Hospitality Management during the spring 2010 semester.  His 300 hour internship focused on client development, relationship management, and event production and management.
At the conclusion of his internship, the Denton CVB kept Hardin on the team as a part-time Sales Assistant in the Group Sales & Servicing Department where he assisted with sales calls and missions, client database management, and co-produced the CVB's annual Planner Zone Expo in October 2010 and 2011.
Hardin graduated UNT with honors, Magna Cum Laude with a 4.0 GPA, in May 2012.
[cols][four-col]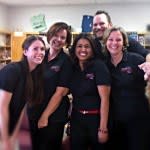 Hardin with Denton CVB staff
[/four-col]
[four-col]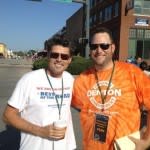 Gary Hurt of Best of the Road team tagged teamed with Hardin during the campaign.
[/four-col]
[four-col]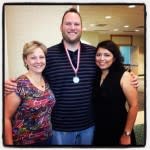 Clancy's Tourism Industry mentors: Kim Phillips of the Denton CVB and Rebecca Ybarra Ramirez of the San Marcus CVB
[/four-col][/cols]