The air is a little cooler, the leaves on trees are changing to beautiful shades of gold and crimson, pumpkins and Jack-o-Lanterns greet your feet at doorsteps of neighbors and shops around town. It's beginning to look a lot like Halloween in Denton. Along with the new scenery comes a feeling that seeps into your skin, a yearning to do some Halloween-themed Dentoning. And there are plenty of Halloween happenings around town to satisfy your cravings. Whether you're looking for the best place to take the kids Trick-or-Treating or if you're seeking for the thrill of something spooky, Denton's got you covered.
Parker House Haunted Attraction Haunted house, anyone? I don't know about you, but I always love me some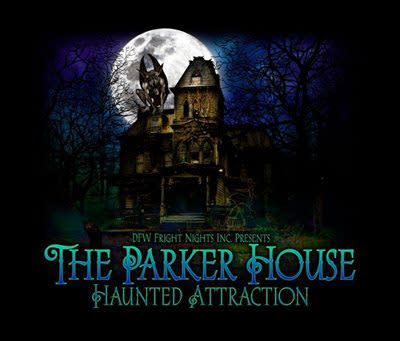 haunted house goodness this season. Added bonus- you don't have to travel far to get the Bejesus scared out of you this year. Located right here in Denton, the Parker Haunted House promises to make you scream like a school-aged girl. Yes, even if you're a grown man, you can't hide behind your beard from the scares at the Parker Haunted House. I won't ruin the surprises and scare everyone with all the details of this house-turned-mortuary, but if you want to learn more about the depravity at the Parker Haunted House, check out all the eerie details at dfwfrightnights.com.
Night of Mystery on Hospitality Hill Ready for a night enshrouded in mystery? The Second Annual Night of Mystery on Hospitality Hill will be held on October 10 at 6:30 p.m. Unlike a murder-mystery dinner, you don't have to worry about "acting in character" or getting dressed in costume (although, if you want to wear a costume, I'm sure no one would stop ya). Twice Upon a Time Storytellers will lead the evening with a nail-biting tale to keep you on the edge of your seat. Along with the titillating tale, there will also be food, drinks, and doorprizes at the Night of Mystery. The scene begins at the Courtyard by Marriott, continues on to the Hilton Garden Inn, and finishes at the Best Western Premier Crown Chase. The only thing you need to worry about bringing is your appetite- appetizers from On the Border, dinner from Texas Roadhouse and Olive Garden, and dessert from Red Lobster will be served throughout the night along with beer and wine. Proceeds will benefit United Way of Denton County, so you can have a fun night out for a good cause. Tickets are $60 a person or $100 for couples. For more information, visit the United Way website.
Young Frankenstein Looking for some songs, laughs, and maybe even get a date night? Head over to the Campus Theatre in downtown Denton and snag seats for Mel Brook's Young Frankenstein performed by the Musical Theatre of Denton. With memorable tunes such as "The Transylvania Mania," "He Vas My Boyfriend," and "Puttin' on the Ritz," Young Frankenstein is monstrously good entertainment. If you have yet to witness a singing and dancing laboratory experiment in the largest tuxedo ever made, rest assured knowing you can mark that off your list after seeing this hilarious show. Show dates- October 18, 19, 24, 25, & 26 at 7:30 p.m., and October 20 and 27 at 2:00 p.m. Tickets available online.
Denton's Day of the Dead Festival Want to have some Halloween fun but not quite ready to get the pants scared off of you at a haunted house?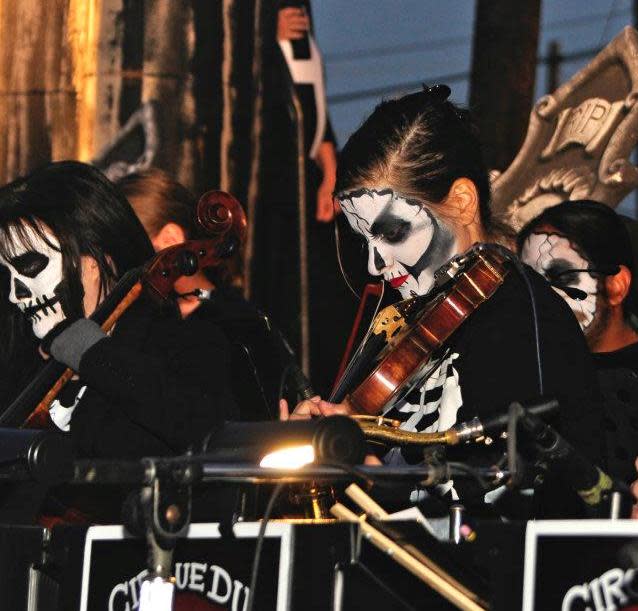 Clear your schedule to attend for Denton's Day of the Dead Festival October 26th. Held on the last Saturday of October every year on Hickory and Industrial Street, Denton's Day of the Dead Festival pays homage to all things awesome that Fall brings: cooler weather, the harvest, Dia de los Muertos, and all things Halloween, of course. That's a lot to celebrate! The fun begins at 10 a.m. and goes on throughout the day, ending at 9 p.m. Bring the whole family, so no one misses out on the excitement. The kids will love the Pumpkin Patch and trunk or treating, and everyone will enjoy watching (or participating in!) the Coffin Races and the lantern-lit parade.
Unicorn Lake Trick-or-Treat What is the true meaning of Halloween? Any kid can tell you-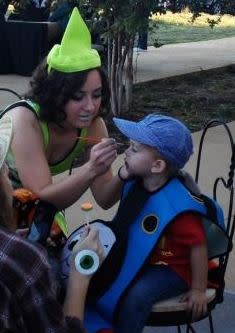 it's all about wearing costumes and getting tons of candy. Sounds good enough to me. Tell the kiddos to don their best costumes and find something that will hold lots of treats, and make your way to Unicorn Lake for Trick-or-Treating at its finest on October 31 from 4 to 7 p.m. This will be a BLAST for the kids. Not only will they get to load up on sugar-filled and chocolate-coated deliciousness, there will also be other activities slated for the evening to satisfy their Halloween cravings- bounce houses, a cupcake walk, face painting, balloon artists, and more! After three fun-packed hours, your kids will sleep like angels (whether or not that was their costume of choice this year).
Happy Halloween Dentoning!