"The ugliest sign in the world" is exactly how the group of investors now in charge of Golden Triangle Mall (GTM) described the giant marquee that has dominated the Loop 288 entrance for more than 30 years.  On Friday morning August 2, that sign came crashing down with great fanfare at a demolition party.  Even Denton's Mayor Mark Burroughs got into it when he was handed a red-bowed sledge hammer.  He swung with aggressive intent, suit jacket open and purple tie flying behind him, taking a grand chunk out of the marquis mortar.  That chunk launched a sledgefest in which several more business leaders took a turn before the bulldozer finished the job.
An era ended.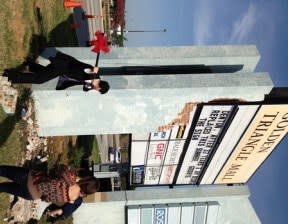 A new, millenial-appropriate marquee is on its way up now on that prime piece of real estate under a facelift in its entirety.   Driving by, it's likley you've already noticed something big happening.  The mall entrances are going from cave-like corridors to bright, airy, modern  gateway welcoming shoppers into an ambient, Denton-centric sense of place.  Earth has been moving around there for a year already as new restaurant pad sites are developing around the mall's exterior.  Rumor has it that Corner Bakery will be landing at this location soon, among several more big names.  And they're not just outside the mall, either.  The food court inside is a 100% complete redo that will boast more name brand cuisine faves.
Rest assured...it's not only about the edible side of shopping.  That just happens to be my personal favorite attraction.  Trendy, upscale, national merchants are on their way to Denton.  In fact, The Buckle has already formally announced their GTM locale.  There are still a lot of secrets yet to be revealed as soon as contracts between GTM and all the newbies are finalized.
I mentioned the mall's new goal of creating a feel that is "less just mall and more sense of place."  At the Convention & Visitors Bureau, we are convinced that sense of place is alive and well within the Original Independent branding spreading across all aspects of Denton for the past two years.
Original.  Independent.  How does that relate to a mall concept whose tenents are anchors of shopping centers across the country, maybe even the world?  The answer is that Dentonites like those places, too.  Great shopping options are not bad.  Recognized chains are not bad.  Be honest... don't you check them out when you visit other destinations?   The key is that there is a right place and a right time for everything.  And this is the time for Golden Triangle Mall to become what Dentonites and visitors expect as an available amenity in cities with long-term, sustainable attractiveness.  It's an add-to; not a replacement for anything.  It just makes us broader.  And that's a good thing.
GTM knows what I'm talking about, too.  They get it and they're learning us, learning Denton.  They don't want to be an island that misfits the Denton brand.  They want to incorporate the sense of place into their center and make their center part of the bigger picture.  And we want to help them do it.
A new era begins.  Growing happens.  And when it does, we change.  Things change around us.  A strong brand embraced by a community that believes in who we are will drive how we not only adapt to inevitable change but manage it so we don't lose ourselves and our identity in the process.
Denton.  Original.  Independent.  Welcome back, GTM.