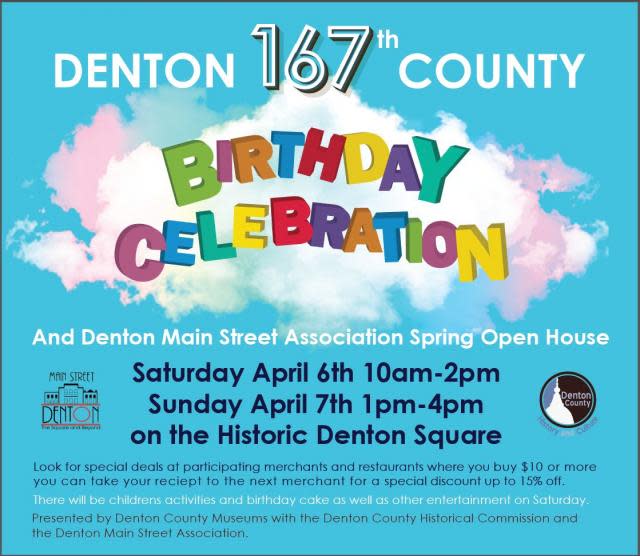 Attention, Dentonites! Denton County is celebrating its 167th birthday, so consider this your official invite to the party!Denton County Historical Commission and the Denton County Museums are throwing a grand party for this special occasion.  Be sure not to miss out on all the fun April 6th and 7th.  This weekend will be full of fun, entertainment, a Silent Auction, and more. In conjunction with the birthday bash, Denton Main Street Association is also hosting its Spring Open House. That means that more than 20 of the shops around the Square will open their doors to the party and welcome everyone with great discounts.
This will be fun for the whole family!  The kids will be thrilled at the sight of the vintage fire truck and getting the chance to ring its bell. Want to play like hotshot archaeologist Indiana Jones? Bring the little ones over to help piece together pottery from a 19th century Denton County pottery site.
After all that hard "work," dining and shopping around the Square sounds tempting, and with the discounts the shops and restaurant are offering, why not partake? It's the weekend, and chances are you'll be feeling a little thirsty.  As you're enjoying Denton County's birthday celebration, stop by one of the participating shops around the Square to quench your thirst.  Wine Squared is right there in the middle of the action and boasts a selection of more than 80 different wines from all around the world and more than 20 microbrews and imports to choose from. Plus, they'll be offering $1 off all glasses as well as 25 percent off "to-go" bottles.
It's Denton County's birthday, but the guests are really the ones getting the presents with these good deals. Make sure to visit Chestnut Tree where there will be a 10 percent off deal waiting for you. With so many tasty options to choose from, your best bet might just be to get a little of everything with the Tea Plate. This way, you can have a sample of soup, a sandwich or wrap, AND fruit and dessert… We're guessing that you'll probably wind up with some leftovers to nosh on later too.
And to satisfy your shopping needs, check out Garden Gate where you can get everything you need to decorate your home for Spring, all at a 15 percent discount for celebrating the Spring Open House and Denton County birthday with them. Whether you're looking for a bright and playful wreath to welcome guests into your home, or you're more in the mood for a display of flowers to add some warmth to a room, Garden Gate has a little of everything and unique décor you can't find anywhere else.
But this is only a taste of what's in store for you at the Spring Open House. Remember, there are 20 participating merchants to look forward to April 6th and 7th. For more information on participating merchants and their discounts for the weekend, visit EscapetoDenton.com. See you there!