Story by Veronica Maldonado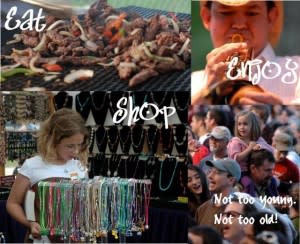 The Denton Arts & Jazz Festival is a great combination of music, food and art.  You've probably heard that Denton is "the paradigm of a healthy music community" and that it is the Best Music Scene, so, the time is ripe for you to experience it for yourself!
Each Spring, Arts & Jazz Festival organizers pack an exciting schedule full of jazz and every other musical genre. Literally, there is something for every musical taste.  You'll find as many fiddles, and even accordions, as traditional saxophones!
This year as the sun sets on the first night of entertainment, the festival pays tribute to Leon Breeden, legendary director of the One O'Clock Lab Band for over 20 years.  Breeden added intriguing pages of history to the One O'Clock Lab Band and the University of North Texas Music program.  The Official Texas Jazz orchestra will be accompanied trumpeter Marvn Stamm, former member of The Blues Brothers band Tom Maloneand saxophonist and former member of the Saturday Night Live house band Lou Marini All three were members of the One O'Clock Lab Band under the direction of Breeden.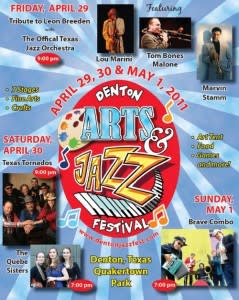 Saturday evening's performance spices the evening with un poquito de Tex-Mex.  Not the food.  The music!  After almost a decade, the surviving members of the Texas Tornados,Augie Meyers and Flaco Jimenez, have united with Shawn Sahm.  Old timer Flaco Jimenez is still smokin' hot on the accordion in "Who Were You Thinking Of" and Shawn Sahmhonors his legendary father Doug Sahm.  Expect to hear final work by former iconic band member Freddy Fender in their newly released album Esta Bueno! Over 2,200 artists will perform on 7 different stages and all the concerts are FREE. There are 3 professional stages, the UNT Showcase Stage which features all UNT music groups and 3 stages that feature impressive community groups and local performers.
It's flip flop weather and you can lay out your blankets or set up lawn chairs to enjoy the shows.  Don't leave the family at home, either.  Kids 12 and under can mold, sculpt and create in the Children's Art Tent.  And you won't go home empty handed.  You can pick up a special piece of art from over 175 juried artists and crafters.  Don't worry that you have to leave your coolers behind.  With six food courts you can have your fill of food, wine and beer!
We are on the verge of Summer when Arts & Jazz hits Quakertown Park.  Music is in full bloom! And you will discover that FUN IS THE THING, JAZZ IS KING and why Denton is the music capital of North Texas.