This Saturday, April 12, get ready to have a day of fun for the family!
From 10 - 4:00 is the Denton Redbud Festival.  Did you know that Denton is the Redbud Capital of Texas?  This annual event is one of my personal favorites.  It is a smaller festival at the Denton Civic Center.  There are a variety of plants, such as flowers and trees, for sale.  Indoors, you can find lots of information from local vendors on solar panels, compost, etc.  They feature a fascinating event called Trashion Fashion at 12:00, where you can watch models walk down the catwalk in their recycled creations.  People of all ages compete in their garments made of trash!
In addition to the fun and food options from local food trucks, you can also donate used goods during the Reuse Roundup to SCRAP, Ruth's Room, ReStore and Explorium.  For a complete list of accepted products, click here.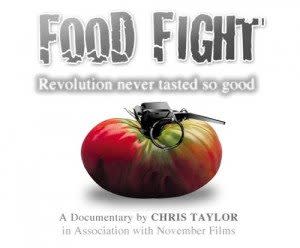 Later that evening at 6:30, head for the showing of Food Fight, a documentary about the local eating movement.  All of the proceeds raised will go to support the Denton Community Market!  Representatives from the market and Cardo's Farm Project will be on hand to help educate the community about local farms and vendors.
This event will be held at the Denton Unitarian Universalist Fellowship, 1111 Cordell Street.  Tickets are $5 for adults and $3 for children (includes admission and refreshments).  Additional refreshments will be available for purchase. Refreshments include organic popcorn, fresh lemonade, fair trade coffee and sweets from the Denton Vegan Cooperative.
So come out on Saturday and support local community!  We'll see you there!