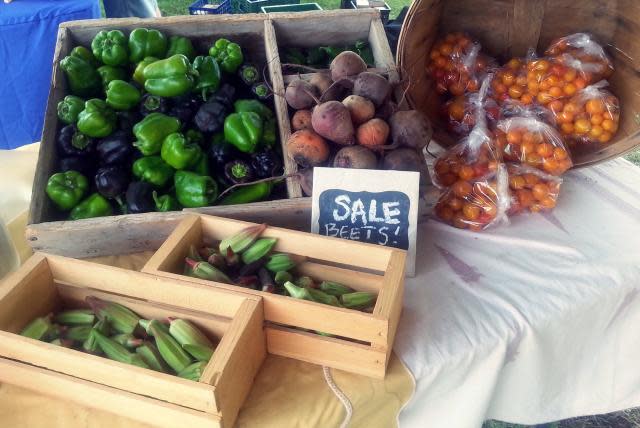 Splash Day was a big success last week, with a continuous stream of children (and some adults) cooling off on the water slide. The next Splash Day will be August 3rd, 2013.  Local music filled the air and children waited in line for balloon animals.
The Denton Community Market has a growing number of visitors and regular patrons that enjoy their local produce, finding gifts, listening to local music, and hanging out with friends.  There is plenty of seasonal produce available now, from tomatoes to berries and cucumbers.   The Market also continues to gain new vendors, including new food selections.
CoffeeWright Roasters now offers iced coffee, No Brainer offers lemonade and iced tea, and Pawlettas Popsiclesoffers fresh, local fruit popsicles.  We also have food trucks and other food vendors that offer breakfast and lunch options.
Visit us each weekend through November 30th on the corner of Carroll Blvd and Mulberry Street from 9AM-1PM each Saturday for local fun, food, and socializing.