It was an important moment for Denton, one that will live forever in our memory and archives. Wednesday, May 28, 2014, the day Denton was recognized above every other city in Texas for preserving our history and genuine sense of place.   It is the day Denton was awarded the prestigious title as the Texas Historical Commission's (THC) First Lady's Texas Treasures Community of 2014.
Late afternoon sun filtered through the blinds in the 118-year-old Commissioners' Courtroom in the Courthouse-on-the-Square.  Among those gathered were the present-day keepers of Denton history along with representatives of city and county leadership.  Mayor Chris Watts opened the ceremony with a quote from First Lady of Texas Anita Perry.  "Texas Treasures are communities that go the extra mile to discover their roots, teach living history lessons, and create a lasting legacy for future generations. This award recognizes visionary communities that put in the hard work required and insure that their home town is different from the next."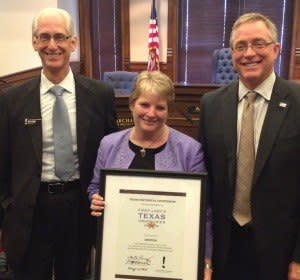 THC Director Mark Wolfe (left) presented the First Lady's Texas Treasure award to Denton Downtown Development Officer Julie Glover and Denton Mayor Chris Watts.
While Mrs. Perry couldn't be here, THC Director Mark Wolfe made the formal presentation on her behalf.  In his remarks, Mr. Wolfe cited accolade after accolade for which Denton has been recognized over the years, including our leadership in the Texas Main Street and Historic Courthouse Preservation initiatives.
The THC began this award in 2009 under Mrs. Perry's leadership.  Her goal then and now is to honor cities that invest creativity and ingenuity in preserving and sharing their historical landmarks and resources.  Denton is only the 10th city to receive this award.  It is a well-deserved badge for our ongoing dedication to preserve and reallocate rather than wipe the slate and start over.  This is an integral aspect of our original, independent culture.  It is at the heart of our vibe, that essence we love and others come here to experience for themselves.  It is a communal ethic that drives how we do things and why.  And as a result, we still have original Denton, not the faux town square like countless cities across the country try to mimic.
And our original is not mausoleum-like either.  It's not some old spot that people can visit to see what used to be.  It's alive!  This is who we still are and where we do life together.  It is vibrant and new in the center of where it all began 157 years ago.  We have worked hard to masterfully marry old and new and have done it well.  This is an amazing attribute.  It is unique and envied and absolutely insures that Denton is different, standing out among other Texas cities and destinations.
Denton's preservation efforts began more than 40 years ago, earnestly over the past quarter century.  We have managed to weave our historic buildings into the development of our downtown, and Denton's community life, the fabric of our being, pulsate from this vantage point.  Today, after more than 381 rehabilitation projects and $90 million dollars, Downtown Denton commerce thrives with 350 businesses employing more than 5,000 people.   Some 1,000 residents now live within four blocks of the square in trendy, modern lofts, apartments and townhomes designed within and among our historic buildings.  Visitors flock to our unique shops, restaurants and live music venues, all of which have become our original, independent signature.
I was visiting with Frenchy recently when he made an astute observation that many people forget or may not realize.  "I know all this attention Denton gets doesn't just happen.  It takes a lot of work to make people see what's going on and what we're about."  How right he is.  I would be horribly remiss if I did not shout out here to Julie Glover, Denton's Downtown Development Officer.  She has been at the helm of our downtown efforts from preservation and revitalization to development and promotion.   If it's happening downtown, she's almost certainly in the leading mix of making it so.  This award is no exception.  In fact, Julie initiated the process, facilitated the collaboration necessary, and then organized the research and paperwork required to get Denton in front of Mrs. Perry and the THC for consideration.  She is driven by her passion for our city, and that passion earned this award as much as everything unfolding here.
"The First Lady's Texas Treasures Award spotlights those who lovingly maintain monuments from the past as a way to create a stronger future," says Anita Perry.  Thanks to Julie and countless others through many years, this is our legacy.  We are Denton, original and independent.
Check out the Denton award video and more details about the First Lady's Texas Treasures at www.thc.state.tx.us.