The Denton Community Market is a unique weekly gathering place in downtown Denton.  The Market features live music on the 1st and 3rd Saturdays as well as a water slide the first Saturday in July and August.
You can find local food, local seasonal produce, and locally-made crafts each week. We are constantly adding new vendors. Some of our latest vendor additions are Kendrick's BBQ and More (food truck), Coffeewright Roasters, andGingernut Naturals (laundry soap).
You can also find:
·         Pawletas Popsicle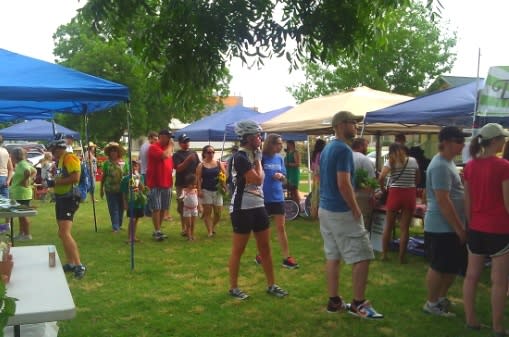 Belmondo Bakery fresh baked goods
·         No Brainer fresh lemonade and iced tea
·         Vegan food from the Denton Vegan Cooperative
·         Fresh squeezed juice from Denton Juice Co
·         Banh Mi sandwiches from The Pickled Carrot (food truck)
·         Fresh breakfast and lunch pizza from Fire in the Hole Pizza.
There is plenty of local produce, from berries to carrots and greens, and local eggs as well.
Come out with your blanket or chairs and enjoy a morning of "Dentoning" this Saturday.        Carroll Blvd@Mulberry Street, 9:00AM to 1:00PM every Saturday through November 30th, 2013.