There are endless reasons to shop local and put your hard-earned money back into the local economy — and the farmer's market is no exception. 
Just a few (of many) benefits of shopping at a farmer's market:
Organic, seasonal produce that's healthier and tastier 
Unique goods and gifts you can't find mass-produced
Each dollar goes to the farmer or vendor directly
Say goodbye to the middlemen who take a hefty chunk out of their total profits. Your dollar goes much further at a community market. 
With every purchase, you support a local business owner and help them put food on the table, pay the bills, and support their livelihood.
On National Farmer's Market Week (and every week), we remind our fellow Dentonites to join us on Saturday mornings at the Denton Community Market for some fresh air, good tunes, and a fun day of supporting locals. 
While browsing the rows of unique vendors at the Denton market, consider some of these top picks where your dollar makes a difference: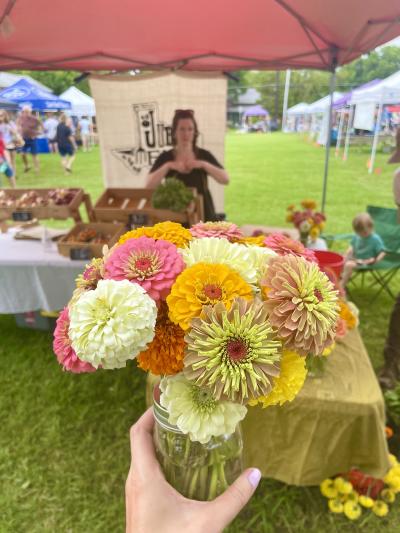 A Bouquet of Fresh Zinnias. Photo by Local + Small
Top 10 Things to Buy at the Denton Community Market
 
Homemade Salsa
True Texans love a good ol' homemade salsa recipe. Even if you weren't born in this great state, you can tap into your Texan roots and grab a jar (or two) of salsa to add a fresh kick to your daily grub. 
Where to buy homemade salsa in Denton:

Fresh Flowers
Fresh flowers brighten up any home, no matter the weather or season. Add the colorful scents of happiness to your home with a simple bouquet straight from the farm.
Where to buy fresh flowers in Denton:
Homemade Dog Treats
While chugging along the Denton market with your furry friend, treat them to something special without all those harmful ingredients found in mass-produced dog treats! They deserve the best.
Where to buy homemade dog treats in Denton: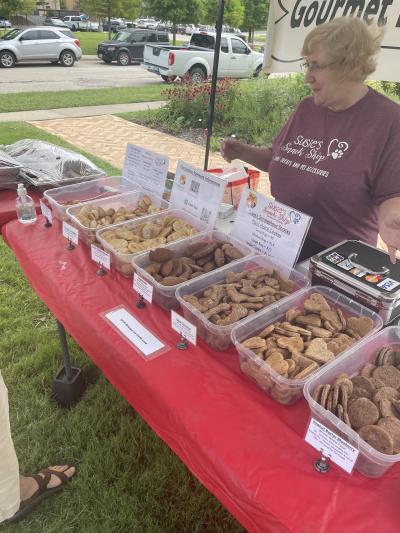 Homemade Dog Treats. Photo by Local + Small
Local Honey
Seasonal allergies, anyone? Local honey can help. Made from local bee farms, this isn't the sugar-filled, color-added honey you've learned to be skeptical of buying at the grocery store. Rest assured, honey from a community market is the trusted source to stick to.
Where to buy local honey in Denton:

Handmade Candles
Ah, the wonderful scent of self care. Bring the joys of aromatherapy to your home with homemade candles from a local maker. 
Where to buy handmade candles in Denton:

Microgreens
You and your kids can enjoy eating greens — on just about anything. That's why freshly grown, organic microgreens are a top choice for turning your everyday meals into nutrient-packed superfoods. 
Where to buy microgreens in Denton:

Handmade Jewelry
Ditch the cheap, mass-produced accessories found in the superstore and spruce up your wardrobe with some handmade jewelry created from a local maker. You'll find unique items that will pour in the compliments.
Where to buy handmade jewelry in Denton:

Natural Skincare Products
Another form of self care is taking care of your beautiful skin. From goat milk soaps, organic scrubs and other handmade bath products, you can get everything you need to glow with a natural skincare routine. 
Where to buy natural skincare products in Denton:

Ceramic Mugs
There's something special about sipping your coffee (or tea) in a ceramic mug. Turn your everyday beverage routine into a memorable experience with handmade mugs crafted by a local maker.
Where to buy ceramic mugs in Denton: 

Ginger Beer
Cool down and stay hydrated after a long stroll throughout the community market — with ginger beer! This fizzy, non-alcoholic beverage with a variety of flavors can wet your whistle in a delicious way. 
Where to buy ginger beer in Denton:
Getting hungry?
 
Stop at one of the handful of food trucks and foodie vendors at the Denton market to fill your happy tummy:
Baked Goods

Made to Order

Goodies To-Go

View the list of all vendors and farmers at the Denton farmers market.
Can't make it to the Denton farmer's market? Here's other ways you can support these vendors and farmers:
Follow on social media

Follow for events and other markets they sell at, new product offerings, specials. 

Share on social media

Take photos of goods you purchased from these vendors and share it on your social media. Don't forget to tag them and the market so they are notified to share it to their channels, too! 

Buy from 3rd-party shops

There are lots of farm-to-table restaurants, local shops and other nearby markets that sell (or use) goods from these vendors. Contact those vendors to find out where else they sell so you can support their business in more ways than the weekend market.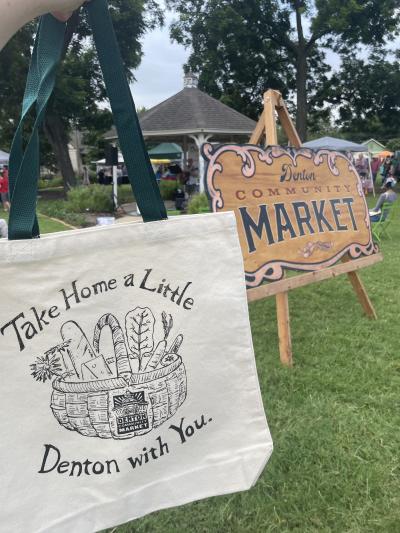 Handprinted Tote Bag In Front of Community Market Sign. Photo by Local + Small
Learn more about the Denton Community Market
Facts about the Denton Community Market:
Occurs every Saturday (April-November) from 9 AM to 1 PM
Sets up at 317 W Mulberry St. (the corner of Carroll Ave and Mulberry St)
The market is a producer-only farmer and maker market featuring local farmer booths, artisans and makers, food trucks, live music, kids activities, and more!
It's pet-friendly! Dogs must be on a leash. 
You can donate or become a sponsor to the Denton Community Market to allow them to offer more helpful initiatives for local farmers and the community.
The market is a 501C3 nonprofit program with a Board of Directors and team of volunteers who help with the weekly event. Become a volunteer.
They accept SNAP EBT and WIC FMNP. 
An average of 5,000 visitors come to the market per week.
Over 125 musicians have performed each year.
A list of 140 vendors and 23 local DCM-certified farmers who have attended the market. 

Tips for Visiting the Denton Market:
Create your grocery shopping list before coming to the market, and shop at the market first before heading to the grocery store. 
Wear comfortable shoes that you don't mind getting dirty in case you come across a muddy spot. 
Bring reusable bags or a cart to hold the local goods you buy at the market. Most vendors don't offer a bag with each order. 
Most vendors take credit cards, but it's always a good idea to bring cash. 
There's a free public parking lot on Mulberry St. and within walking distance to the downtown Denton square.
Buy your produce and flowers last so they don't wilt in the sun. 
Pack a basket or sturdy box in your car to hold fresh flowers in vases or other liquid items to keep them from tipping over while you drive home. 
Stay socially distanced from others - masks are optional but recommended. Do not come to the market if you are feeling ill.