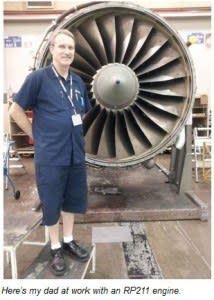 Growing up, I remember my dad gathering the whole gang (all five of us kids) to airshows year after year. It was always a really cool and fun way to spend a Saturday with my dad. The kids had a good time, and my dad loved seeing those old war birds in action. My dad was a Marine back in the day, flying helicopters in the Philippines, and I guess he's always had a soft spot in his heart for aviation. He loves it so much, he's made a career of it, working for American Airlines for nearly a quarter of a century.
I love my dad to death, I do, but I'll be the first to admit he is pretty grumpy most of the time. Just the way he is. But on those sticky hot summer days that an airshow was in town, he would get us all up early to go see the show, smiling and even goofing off, like a kid excited to go to Disney World. We'd all slather on the sunscreen and don a pair of comfortable shorts and head down to the airshow to spend some time with our pop. It really felt like we were being transported back in time to see those antique aircraft showing off and dancing in the sky.
With a big genuine grin on his face, it was clear Dad just couldn't get enough. Getting up close and personal to the Pitts S2Bs, B-25J Mitchells, and P-40N Warhawks.  All while telling me and my siblings all about the planes, what they were used for, what kind of engines they had, etc. He'd ask the experts there all sorts of complicated and specific questions about the aircraft, the kind of questions you wouldn't think to ask unless you're already some kind of expert yourself. Dad would learn more, and us kids walked away with a lot of interesting facts too, giving us a little something to show off to our friends later.
Walking around and getting to explore the vintage aircrafts would have been enough to tickle any kid's fancy, but on top of that, there were the breath-taking and heart-stopping performances in the sky. People young and old out on the tarmac gazed up at the sky, holding their breath as they watched the aerobatic spins, hairpin turns, and nosedives.  Thrilling moves that give observers an adrenaline rush. I can't even fathom what the excitement must be like from the cockpit.
Spending all afternoon by my dad's side getting to know all those great antique aircraft is one of those childhood experiences I wouldn't trade for the world. Going to the airshow with Dad was the best way to spend some quality time with him. And after all the excitement was over, we'd plop down in the back seat of the car and slumber quietly on the ride home. Exhausted, images of WWII biplanes danced through our heads.
With Father's Day coming up, how about making some ever-lasting memories of your own to share with your family? An awesome way to spend some father-kiddo time is at the upcoming Denton Airshow.  And the fact that it's on Father's Day weekend? Even better. So buy your tickets, slather on the sunscreen, and pile the kids in the car for the 2013 Denton Airshow.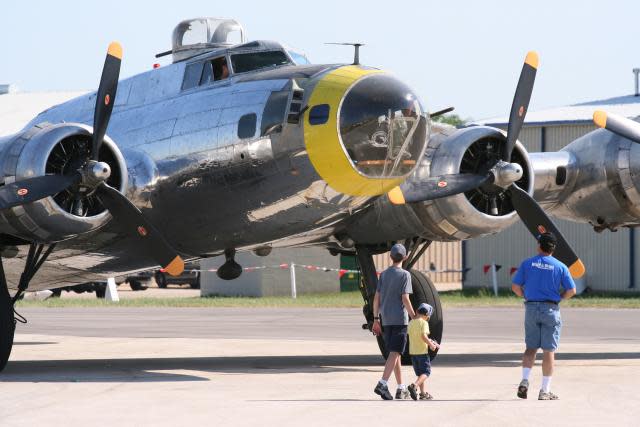 Denton Airshow Date: Saturday June 20, 2015 (Father's Day weekend) Time: 9:00 a.m. - 2:30 p.m. (breakfast with pilots starts at 8:00 a.m.) Location: Denton Municipal Airport (5000 Airport Rd, Denton, TX 76207)