Even though it was March, the crazy 27 degree Texas weather had us donning our winter jackets and scarves for the first spring tour of the North Texas Horse Country. The weather didn't matter though. No one seemed to mind since it was still a gorgeous Texas day with an abundance of sunshine, and a promising Horse Country Tour awaited us. It began at 9 a.m. with everyone gathered at the Denton County Historical Park on the corner of Carroll and Mulberry in Denton. The 50 of us on the tour varied from seniors, to couples in their forties and couples in their twenties. The tour group was ready for the excitement, fun, and learning that lay ahead.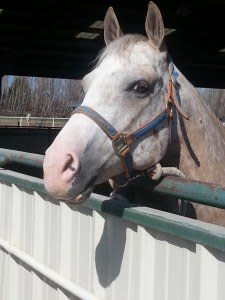 The luxurious motorcoach drove us through a winding and beautiful scenic drive in Denton County. Our tour was led by our amiable and knowledgeable tour guides- Judy Watkins and Allan Watt. Judy who loves history and is a long-time resident of Denton County, comes from the Denton Convention & Visitors Bureau to help guide the tour. Allen with Wells Fargo Advisors, on the other hand, was born in Canada but considers himself to be Texan by marriage. Wells Fargo Advisors also co-sponsor the Horse Country Tours.
It was my first time to experience a Horse Country Tour, and I was pretty excited to learn all about it. My younger sister Shirley was quite jealous when I mentioned my fiancé and I were joining the tour.  Shirley's 100 percent Texan. Born and raised. Loves horses, cowgirl boots, rodeos, all things "Texas." She was wishing herself on that motor coach alongside us.  Don't lose hope, Shirley.  There's still room on the May Horse Country Tour.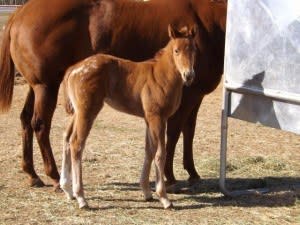 One of my favorite parts of the tour was all the driving around Horse Country we got to do. Even though I've lived here for seven years, I had never really experienced "the country" part of Denton County until the tour. It was new to me, and it was really beautiful. I absolutely loved the breath-taking natural beauty of the area. I'm glad I brought my camera too, because I ended up going home with more than 100 pictures.
In addition to gorgeous views I got to take in over the course of the six-hour-long scenic tour, I also learned so much about horses, the ranches, and the whole equine presence in our community. Unlike my little sister, I went into the tour with very little prior horse facts. But even for someone who feels confident with their equestrian knowledge, there is still plenty of opportunity to learn from the ranchers that guide us through their facilities. Some people choose to join the tour multiple times, because it's always a different journey.  The entire tour was a learning experience. It wasn't just a quiet drive. Judy and Allan shared all sorts of tidbits of information along the ride and at the ranches.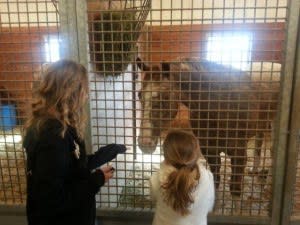 Going into the tour, I wasn't sure if we were just going to be driving around and seeing the ranches from the motorcoach, or if we would get anup-close visit with horses along with the fresh air they breathe.  I was grateful that we actually got to walk around and visit the horse-quarters.  This particular tour visited 3 ranches: Kaiser Rosa, Steve Cruse, and Valor Farms . Oh, did I mention there were horses? We got to see plenty of horses and several new-born babies as well (this is an added bonus of taking the spring tours). We even got up close and personal with some of them. I won't share too many details to avoid spoiling some of the fun surprises. What I will share is that the chuck wagon lunch was delicious! That was some mighty-fine and tasty comfort food we enjoyed as we gathered around a cozy fire pit.
We were ecstatic that we chose to spend our Saturday on the very popular Horse Country Tours.  If you are considering joining one, you may want to act fast because they do sell out. The next available tour is May 4th. Hurry and reserve your spot before my sister beats you to it. For more information about the Horse Country Tours or to reserve your spot, call the Denton Convention & Visitors Bureau at (940) 382-7895.
Here are some more pictures I got on the tour: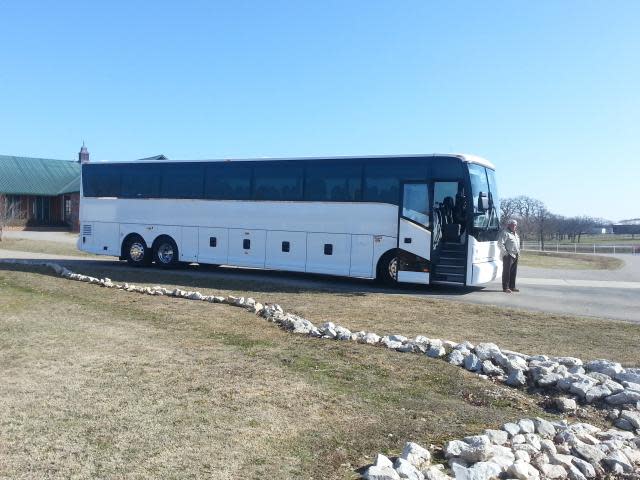 Our sweet ride.
Our tour guides- Judy Watkins and Allan Watt.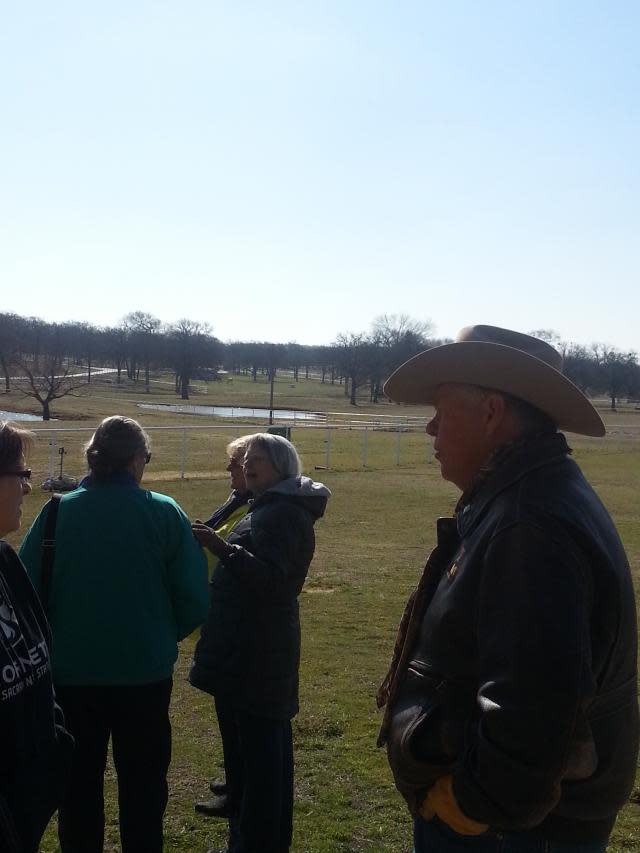 Cowboy Country.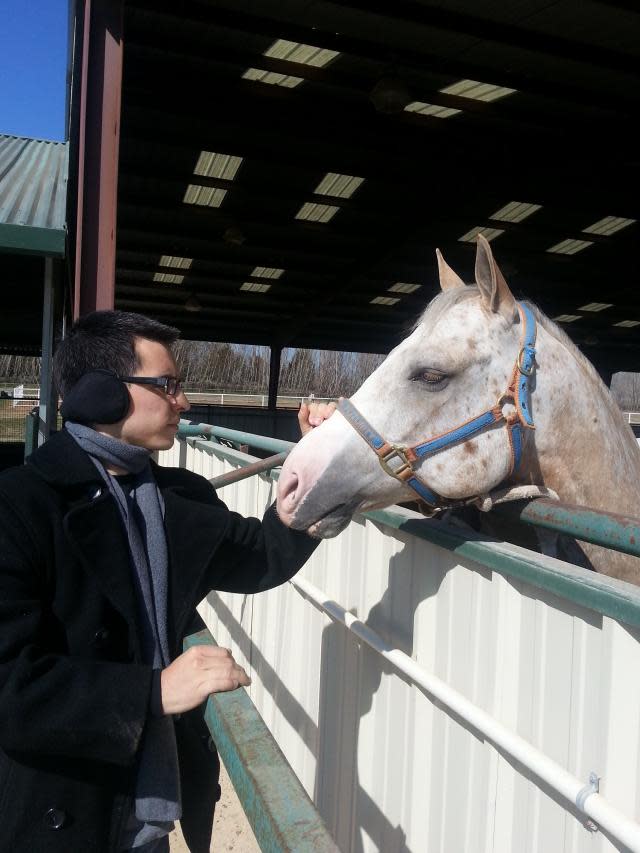 My fiancé, David, petting a friendly horse.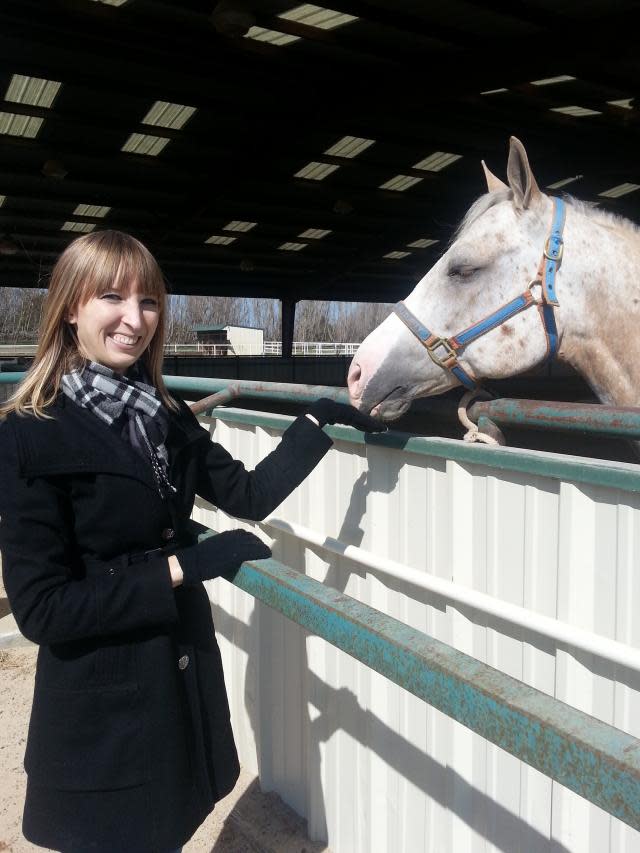 My turn!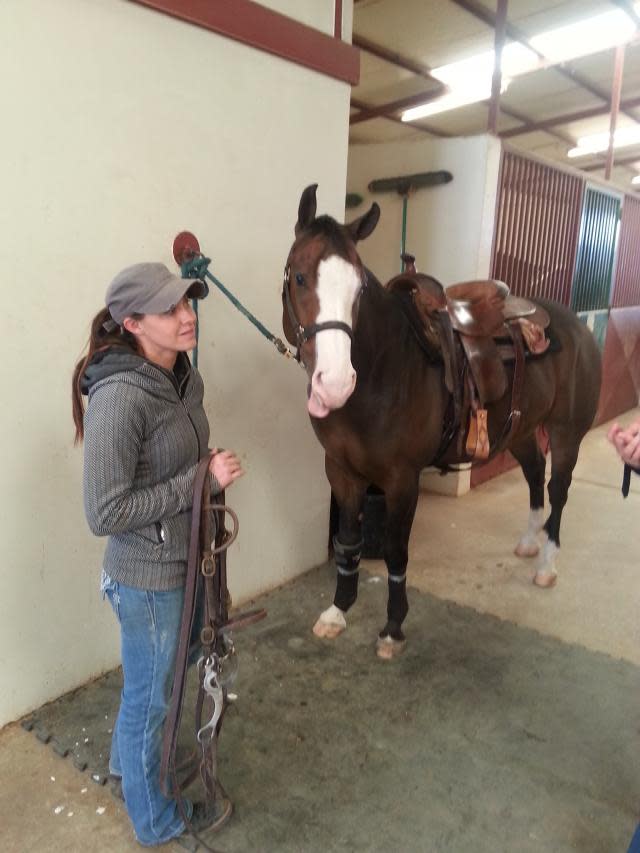 This one makes me laugh. This horse looks like Mr. Ed, the talking horse.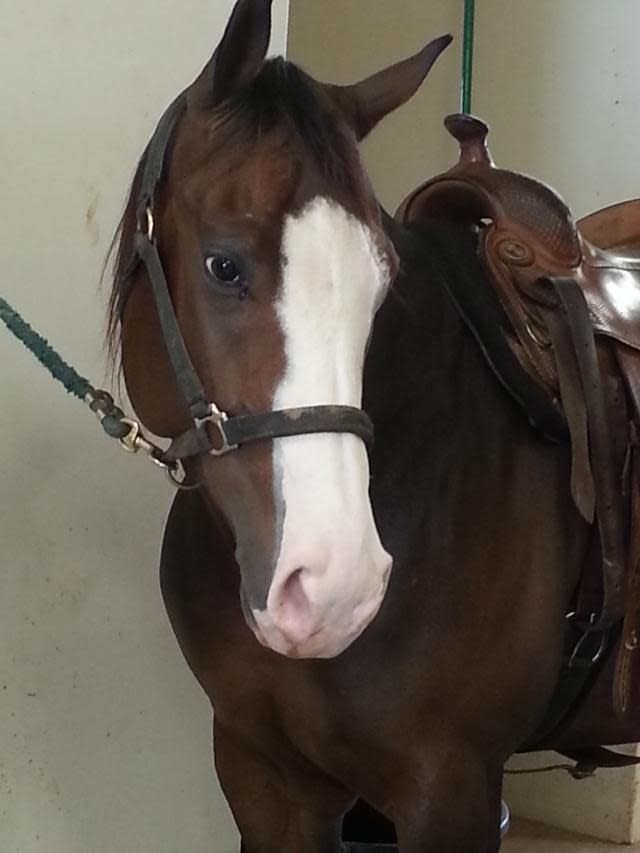 What a sweetie!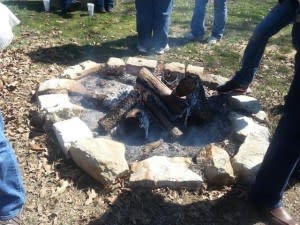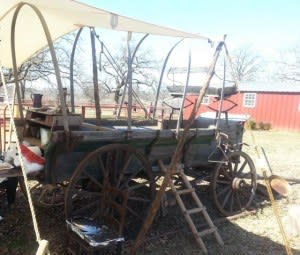 Chuck wagon lunch.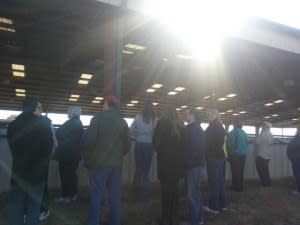 Tour group in the sunshine.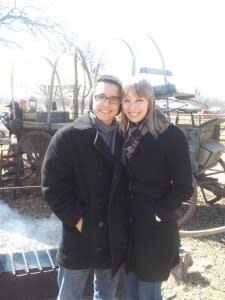 Us in front of the chuck wagon.