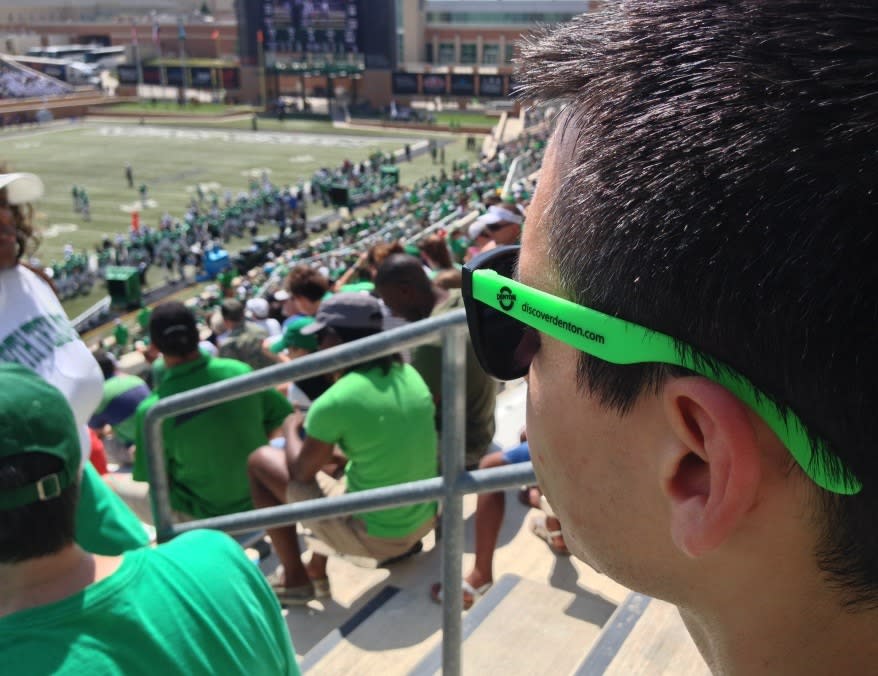 After much anticipation, the first football game of the season is upon us. The sun is shining, and the people of Denton are decked out in their best Mean Green attire. My husband and I, both UNT alumni, were no exception. We assembled ourselves in our best game-day attire: green shirts, green sunglasses, and green-and-white pompoms. Mean Green Game Day is finally here, and we're ready to watch UNT take on SMU at the Apogee Stadium in Denton.
To make game day even more enjoyable, we were able to avoid the hassle of parking. We parked downtown across from Oak St. Drafthouse and caught a free ride on the DCTA shuttle across from East Side. Oak St. Drafthouse and East Side both had appropriately opened early for pre-game and post-game celebrations.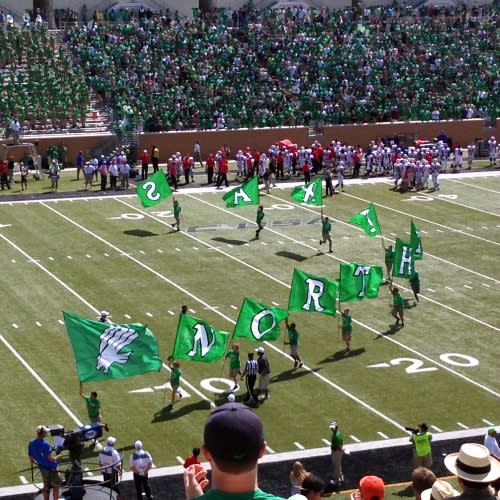 As soon as we got to our bus stop, we could see our DCTA shuttle heading our way. The bus was filled with UNT fans, eager to watch our home team kick some SMU tail. Our ride dropped us off at the pedestrian bridge, and we scurried along until we found our seats.
Apogee Stadium was packed with UNT students and alumni, and the excitement was palpable. We watched as UNT crushed their opponents, making their first home game of the season an overwhelming victory.
After the game was over, we grabbed a ride on the shuttle back to downtown Denton. Signs around town pointed out which businesses were "Mean Green Game Day Champions." Barefoot Athletics was listed, so we ducked in there to enjoy the air conditioning while we perused the selection of college apparel. They got into game day spirit by offering us free shirts, beer and koozies! Yes, please.
We finished the day by filling our bellies with deliciousness at Viet Bites before heading back home. Our first Mean Green Game Day experience went off without a hitch, and I'm sure there will be many more to come.
Check out the UNT home game schedule, and plan your next Mean Green Game Day experience.