The A-train's arrival in Downtown Denton has ushered in a streak of new visitors from across the DFW area, many reporting they are visiting Denton for the first time. The Denton CVB and the City of Denton are partnering with the Cities of Highland Village and Lewisville to create a Visitor Center in the Downtown Denton Transit Center, the only manned and climate-controlled station between Denton and Union Station in Dallas. Information kiosks will open in August showcasing attractions, restaurants, shopping opportunities, festivals, and all kinds of things to see and do along the A-train's route.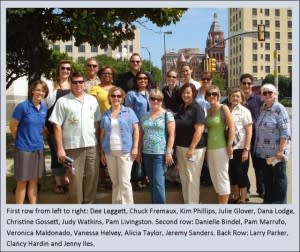 "We are seeing new customers, especially on weekends, that have ridden the train and then walked to the Square," says Bob Moses of Beth Marie's Old Fashioned Ice Cream. "The walkability of our downtown really gives us an edge, I think."
Of course, Dentonites are also using the train to access the rest of the Metroplex. Everyday, the Chamber / CVB's Information Assistants get walk-in visitors and phone inquiries seeking counsel about train routes and A-train connections to the DART. Our mission is offering guests the best and most accurate information. And, since experience is the best teacher, the CVB organized a familiarization tour retreat for all CVB and Chamber staff, some board members, and representatives from the Denton Main Street Association.
Vanessa Helvey has served guests in the Chamber/CVB lobby for the past three years. "It is much easier to talk about something when you've seen it yourself," she said. "A lot of people are nervous about riding the train the first time. Now that I've done it, changed trains, ridden the DART – well, I feel confident helping visitors overcome their fears."
Dee Leggett, Vice President of Communications and Planning for the Denton County Transportation Authority, led the tour of 17 from Denton to Downtown Dallas and then to various stations along different DART routes. She even made sure the group experienced Union Station where transit customers can access the Trinity Railway Express to Fort Worth.
"The tour proved so valuable to us that we are organizing another familiarization tour at the end of August for our hotels, especially front desk staff who end up fielding questions from guests," said Kim Phillips, CVB Vice President. "The A-train is a great asset to our city. People are finding us for the first time and if we are equipped to make their Denton experience fun, friendly, and seamless, they'll be back again and again."