The 20th anniversary of Dog Days of Denton is just around the corner. On May 31st – June 1st, the dogs are getting let out at Quakertown Park. With a ton of events, free gear and demonstrations, there's never a dull moment. And each year at Dog Days of Denton a Spokesdog is selected. A Spokesdog must be playful, loving, sweet and cuddle-able and last year Bendito beat out all the rest to be crowned the 2013 Spokesdog of Dog Days! As Dog Days 2014 rapidly approaches, we go to sit down with Bendito during his last few weeks of his reign.
We met up with Bendito at his favorite fire hydrant in Denton. He was looking perky and fresh as he came to meet up with us. After some smelling and petting, we got to talking.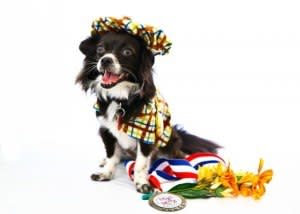 How are you doing today, Bendito?
Great!  I just got home from spreading love among patients and staff at the hospital where I am on the Caring Canines team. I always come home happy and tail wagging!  Sharing my love is fulfilling work!  I'm glad I have more than enough to go around!
That sounds amazing! What a fun day you are having. We know sharing your love is your favorite thing to do on a day off, but what is your favorite treat?
Do I have to pick just one?  How 'bout two:  bacon and liverwurst.
Where is your favorite spot to be petted?
My tiny, but fabulous belly!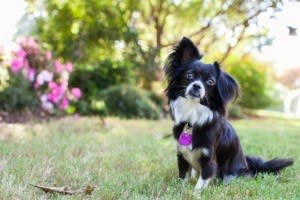 (after a few belly rubs we continued..) What is your favorite smell?
Hmmm…another tough one.   So many smells, so little time.  Lately, I've really been enjoying the scent of dead earth worms and can't help but roll around on them (hence, the grass all over me).
Where is your favorite place to play?
I love zooming around the open spaces in the green belt next to our house.
Who is your best friend?
My Great Dane neighbor Samson.  We have a blast together even though his poops are bigger than me!
On a scale of 1 to a full bag of Milkbones, how excited are you for Dog Days 2013?
A whole mega bag full – one that would take a little guy like me years to eat!
What are you most looking forward to?
All of it, but I really enjoy all the fun contests – us dogs are incredibly talented and it's nice to see that appreciated and applauded.  Oh, and all the special new treats to taste!
What was your favorite part about being the Dog Days of Denton Spokesdog? 
I loved participating in several Denton parades – all those people came out just to see me.  A bonus was getting to know more of what the great city of Denton has to offer and meeting some of its fantastic residents!
Now that your reign is coming to an end, what's the next step in the life of Bendito? 
I will continue fulfilling my calling as a Therapy Dog to bless and heal through love and laughter.  But Mom wants to get me into modeling, too. Ugh.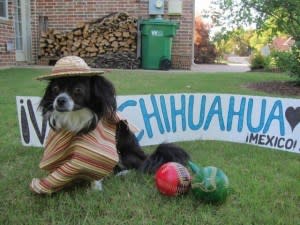 Besides getting crowned, what was your favorite thing about Dog Days last year? 
It was an olfactory paradise!!!  Lots of wonderful, interesting new smells!  Plus, I made a lot of really good friends that day!
What do you think is the most important quality of the Dog Days Spokesdog? 
The ability to love unconditionally – big dogs, small dogs, and all kinds of people!
You're a year older, and therefore 7 years wiser. What's some advice for the 2014 Spokesdog? 
Don't let fame go to your head:  keep your tail in the air, but all four feet on the ground.
Anything you'd like to add? 
Always remember:  love never fails and laughter never hurts!
Thank you for your time Bendito! We know you have a busy schedule!