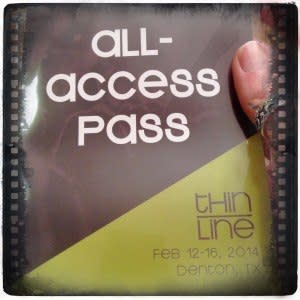 Here's my pass!
Thin Line is here!  This festival holds a special place in our hearts.  My husband and I love seeing the wide variety of films that encourage thought.
Several years ago, we saw The Cove at Thin Line.  We were eating pescatarian at the time, and found ourselves suddenly awake with new knowledge.  As we walked along the courthouse lawn to our car, we came to the unanimous decision that we were done eating fish.  One film made a huge difference in our lives.  That's the power of documentary film!
This year, I'm so ready to watch and learn.  We're taking the kids to Wings of Life, which is FREE and brought to us by Denton Recycles and Denton Sustainable Schools.  I'm also looking forward to Spirit of the Sato, which chronicles the homeless dogs of Puerto Rico, and to Pretty Brutal, a film about girl skaters in New Zealand.
As an added bonus, we get the opportunity to experience live music at the festival!  It's going to be great to see some of my local favorites, like The Demigs, Jessie Frye, and The BoomBachs, as well as Sebadoh, which I remember from my undergrad days in the 90s.
For the entire lineup, visit the website at http://www.thinlinefilmfest.com.  See you there!