As I told my brother the other day, Denton changes every day. And it always changes for the better! Denton has always had a great selection of restaurants, but it just scored big in the international catagory with the opening of Viet Bites. This new Vietnamese restaurant opened last week at 702 S. Elm Street in the old Tom and Joe's building. Gone are the old jukebox equipped booths and smoke streaked walls. The old building that so many Dentonites remember from back in the day, now has a bright, clean, modern look. And the food..........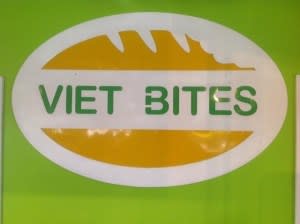 The food is a style from central Viet Nam, specifically the town of Dalat, from where the owners of Viet Bites, James and Victoria Trinh, hail.  After leaving Viet Nam, the Trinh's settled in Houston (I didn't ask why, but expressed my condolences). Recently, the couple decided to open a restaurant to showcase their love of cooking , and the cuisine of their home country. James quit his corporate job and their first thought was to relocate to Dallas. Denton relatives encouraged them to check out Denton also, they did, fell in love with our great town and WE won over Dallas! The food at Denton's newest restaurant is fresh, fast and financially frugal.They start things out with a bowl of rice chips which is a nice change from the corn chips of  our ever-present Tex-Mex fare. Viet Bites boasts egg/spring rolls, pho (pronounced "fuh" not FO), noodle bowls, sandwiches and rice entrees. The Crème Brûlée is the best in Denton.....no Texas, ..... no, the best I've ever had.
Viet Bites is a refreshing new addition to the dining scene of Denton. The owners are extremely nice and extremely happy to now live in our great city. The servers are very attentive and the food incredible! My sons and I eat Vietnamese food whenever given the chance. When my youngest, Connor, was just learning to speak, he inevitably said "Bee Bee Bees!!!" ("Vietnamese" in young Connor-speak") when asked where he wanted to eat out.
Connor, we now have a great Bee Bee Bees place right here in Denton!!!