Story By Tommy Simmons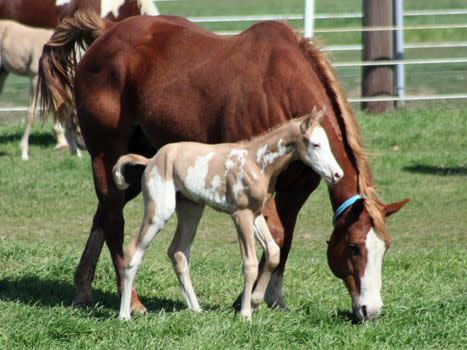 Ever since I was little I've been afraid of horses. So when it was decided that I would be going to a local horse ranch to check out the North Texas Horse Country Tours I was less than excited about it. My head was filled with images of the State Fair farm exhibits of my childhood.
But what actually greeted me at the Tabor Ranch in Aubrey was a well kept and clean ranch with animals that looked relaxed and natural instead of jittery and on edge. We met Izanna Villanueva, who showed us around the ranch and introduced us to some of the award-winning and world famous horses at Tabor Ranch. She also showed us how the ranch makes most of its money, which is by collecting and selling horse semen. Which I personally was not prepared for and found very… enlightening.
Many ranches like the Tabor Ranch are a part of the North Texas Horse Country Tours. These ranches specialize in anything from reining to halter horses and the tours are designed to not only educate people on what exactly goes on at a ranch, but to get people up close and personal with the people and the animals at these ranches. And believe me when I say you will be up close and personal. Many of the ranches make their money from breeding and how they go about collecting the semen is included in the tour, so if you want to bring your kids, make sure you have had the "birds and the bees" talk or else you'll have some serious explaining to do.
But all in all, the North Texas Horse Country Tour is a great way to spend the day. I saw some of the most beautiful animals I've ever seen before. And even with my slight horse aversion I still found myself genuinely enthralled with the tour. After my day of fresh air and magnificent animals I even found myself a little sad to be heading back to my city life.
_________________________________________________________________________________
Need to escape city life?
Join one of the upcoming North Texas Horse Country Tours to experience ranch life and see the new spring baby colts grazing next to their majestic moms.  The tours provide a behind-the-scenes look at life in Horse Country and include a home-style lunch.
The North Texas Horse Country 2012 tour dates are: April 7, May 5 and then September 8, October 6, and November 3. The tours are from 9:00 a.m. to 3:00 p.m. and depart from Denton Historical Park at 317 W. Mulberry St., Denton, TX 76201. Tickets are available in advance from the Denton CVB for $40 or on-site-day-of for $45 and include snacks, lunch, and drinks.
Contact the Denton CVB at 940-382-7895 or 1-888-381-1818 and make your reservations today or visitwww.HorseCountryTours.com.
[cols][six-col]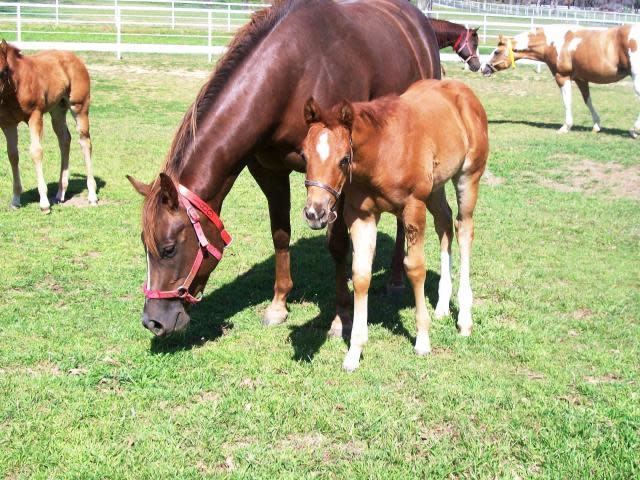 [/six-col][six-col]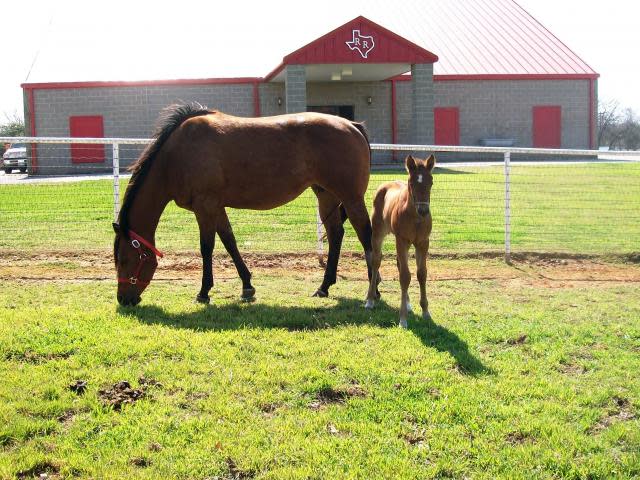 [/six-col][/cols]
In the heart of the North Texas Horse Country, the only work colts at Reata Ranch worry about is basking in the sun.